ParkChat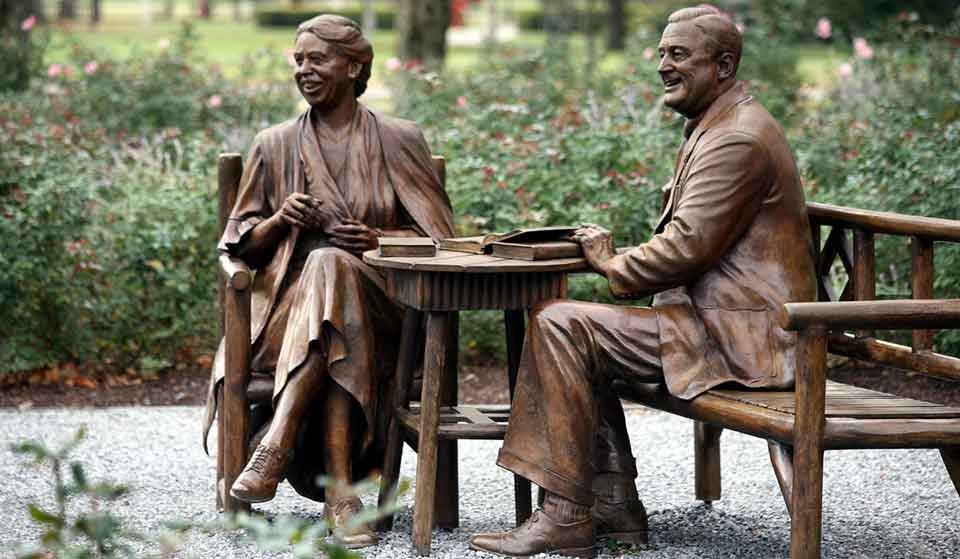 About This Blog
Publishing personal stories about our employees, volunteers, and visitors; promoting events; and exposing some of the things and places you might not get to see when you visit our park.
This time of year is often full of holiday celebrations, and Hyde Park is no exception. Visitors to our three national historic sites got to enjoy a variety of activities to help them get into the holiday spirit.
On election eve 1928, the people of Hyde Park marched with torches in hand to Springwood, the family home of Franklin Delano Roosevelt, who was campaigning for Governor of New York. When they arrived, they were given one message: vote. " The continuing health and vigor of our democratic system depends on the public spirit and devotion of its citizens which find expression in the ballot box."
Here at the Roosevelt-Vanderbilt National Historic Sites, all of our interpreters are unique. We have skydivers and fly-fishermen, musicians and artists, but one of them, actually a VIP (Volunteer-In-Parks) is quite literally a part of the unique history here at the park. Doris Mack, 94, has a very special connection at the Eleanor Roosevelt National Historic Site because she sat at the dining table with Mrs. Roosevelt many years ago.
Have you ever heard the phrase, "diplomacy is no picnic?"
If you've been to the Eleanor Roosevelt National Historic Site recently, you may have noticed a hardworking group of young adults doing renovations on the playhouse behind Stone Cottage. The group has come a long way since they first started their mission in 2004.
On August 25, 2016, the National Park Service will celebrate an entire century of preserving our nation's history and environment since its establishment by President Woodrow Wilson in 1916. We are proud to be a part of this exciting day in the life of the NPS and decided to share some special stories from our own rangers' experiences.
When visitors walk through our parks, it feels like they are walking through a painting. It can be a very inspiring place for artists of all kinds. In fact, you'll often find people propped up with their easels and paint brushes to paint the scene before them or kneeling down to get that perfect shot of a flower with their camera. A place as beautiful as a national park always attracts the artistic eye.
Between the historic home of Franklin D. Roosevelt and the humble cottage of his wife Eleanor, is a historical trail connecting the two national historic sites. The trail is known as Farm Lane and is used as a pedestrian and bicycle pathway for visitors to travel from one site to the other. The 334 acres of woodland landscape was once a part of the 1,500 acres that the Roosevelt's owned and is now home to a diverse habitat for many kinds of wildlife.
If you've stopped by the Vanderbilt Mansion National Historic Site recently, you may have noticed our new furry friends.
The 100th anniversary of the National Park Service was the perfect inspiration. The students decided to stay close to home and have all of the photography taken just up the road at the Roosevelt-Vanderbilt National Historic Site in Hyde Park.
This year, the Fourth of July Parade in Hyde Park will celebrate the 100th anniversary of the National Park Service. Going along with the theme that they have been promoting all year, the parade will emphasize the importance of the National Park Service on American History, especially their role in Hyde Park.
Welcome to our new blog! Stories from Roosevelt-Vanderbilt National Historic Site.
Last updated: June 22, 2016