Weather
At an elevation of 7,219 feet (2200 meters) winters can be cold and snowy. Summers are warm with afternoon thunder showers from mid-July through mid-September. Trails can close unexpectedly due to severe weather.
Average snowfall: 40 inches per year.
Average precipitation (snowmelt and rain): 16 inches per year.
Warmest month: July, with average highs of 84 degrees and lows of 52 degrees.
Coldest months: December and January, with average lows of 14-15 degrees, and average highs of 44-45 degrees.
During the winter months (December-April) all or portions of the park trails may be closed because of snow and ice. If your winter visit to El Morro National Monument depends upon the Headland Trail being open, call the visitor center the morning of your visit for the most up to date trail conditions (505-783-4226). Although the Inscription Trail is usually open through the winter, it may also close for periods of time due to snow and ice.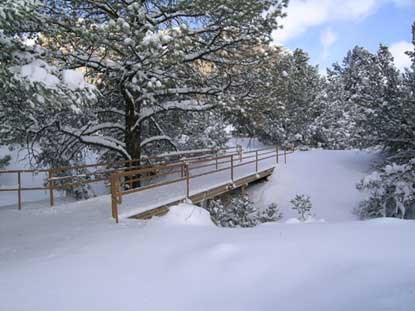 Last updated: February 21, 2015