Permits & Reservations
Commercial Filming
Changes to Commercial Filming Permits on Park Land
On January 22, 2021, the US District Court for the District of Columbia issued a decision in Price v. Barr determining the permit and fee requirements applying to commercial filming under 54 USC 100905, 43 CFR Part 5, and 36 CFR Part 5 are unconstitutional. The National Park Service is currently determining how this decision will be implemented.
Following the recent court decision, the National Park Service will not be implementing or enforcing the commercial filming portions of 43 CFR Part 5 until further notice, including accepting applications, issuing permits, enforcing the terms and conditions of permits, issuing citations related to permits, or collecting cost recovery and location fees for commercial filming activities.
As regulations regarding commercial filming permits are being reassessed, those interested in commercial filming activities on land managed by the National Park Service are encouraged to contact the park directly for more information about filming in the park and to discuss how to minimize potential impacts to visitors and sensitive park resources.
Do I need a permit to film?
Currently, the National Park Service is not issuing commercial filming permits, but is in the process of evaluating how best to regulate filming activities that affect visitors and park resources. All applicable laws and regulations governing activities and public use in parks still apply, including park hours and areas open and closed to the public. Videographers, filmers, producers, directors, and other staff associated with commercial filming are reminded that rules and regulations that apply to all park visitors still apply to filming activities even if no permit is needed for their activity. Check with the park staff for more information on closures, sensitive resources, and other safety tips.
Are filmers still required to pay fees to film in parks?
As of January 22, 2021, the National Park Service is no longer collecting application or location fees, or cost recovery for filming.
Still Photography
When is a permit needed?
Price v. Barr had no impact on how the National Park Service regulates still photography, so there are no changes in how the National Park Service regulates that activity. Still photographers require a permit only when:
the activity takes place at location(s) where or when members of the public are generally not allowed; or
the activity uses model(s), sets(s), or prop(s) that are not a part of the location's natural or cultural resources or administrative facilities; or
a park would incur additional administrative costs to monitor the activity.
How do I apply for a permit?
To apply for a still photography permit, use the Special Use Permit for Still Photography - long application the for complex projects or the Special Use Permit for Still Photograpphy - short application for simpler projects. Please allow one month for permit processing. Contact the park permit coordinator via email or by phone at 505-285-4641 ext. 218 with questions.
Special Use Permit
Individuals or groups who wish to use El Morro National Monument for a special purpose or event require a Special Use Permit. A Special Use Permit must be applied for and approved by the Superintendent. Special Use Permits include, but are not limited to, weddings, large group picnics, sporting events, church services, public spectator attractions, entertainment, ceremonies, 1st Amendment activities (fee is waived), or anyone wishing to use a public address system. Permit applications require a $100 non-refundable processing fee and must be received by the park at least 1 month prior to proposed activity. Your submission of an application DOES NOT guarantee approval of a permit. Special use permit applications are available in both a long and a short version. If you have questions or are interested in these permits, please contact the Special Use Permits Coordinator by email or by phone at 505-285-4641 ext. 218.
Research Permit
Anyone wishing to conduct research at El Morro National Monument must first submit an application. Contact the Research Permit Coordinator at 505-285-4641 ext 227or email us for more information..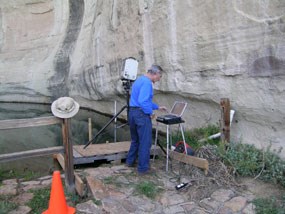 A researcher analyzes data at El Morro's historic pool.
Last updated: July 6, 2022