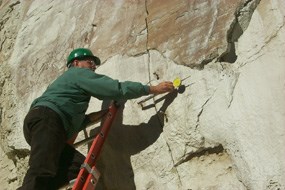 Visitors to El Morro often notice a large vertical crack in the rock as they walk along the Inscription Loop. Sometimes they wonder, "Could that rock slab fall?" The answer is yes, it could fall. But will it fall? The answer to that is yes, as well! It will definitely fall sometime, but not likely in our lifetime. To ensure visitor safety and inscription preservation, the National Park Service has implemented a rock-fall monitoring program. This allows staff to be aware of potentially hazardous rocks which could fall on the trail.
In 2000, four bolts, accessed by ladder, were placed on opposite sides of the large crack to serve as reference points. The one to the left of the crack is used to measure distances to the three on the right side. These measurements are done on a regular basis and allow staff to note changes and trends in the width of the crack.
Is it moving?
Most of the movement occurs during the winter months, during the freeze and thaw cycles. As water infiltrates the crack and then freezes, it expands, pushing the crack further apart. As it melts, the crack moves closer together again. The patterns of our data indicate that the crack widens and narrows on a very small scale with little, if any, continuous outward movement away from the main rock. This leads us to believe that the monolith is stable. However, with safety always in mind, the National Park Service will continue this monitoring program.