Monitoring and Preservation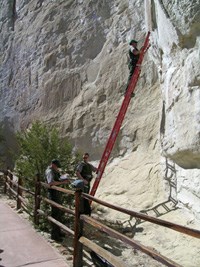 El Morro is an important link to the past and natural deterioration of that link is a concern. Even though the inscriptions on Inscription Rock are very old, dating back to the 1600's, and the petroglyphs are anywhere from 700-1000 years old, they will not be here forever.
The processes of erosion, weathering and plant growth all take their toll. Sand grains wear away, rocks crumble and fall, and lichens and clay deposits cover the historic carvings. Important inscriptions become illegible or fall from the face of the bluff. A part of the evidence of our heritage is crumbling away.
The National Park Service hopes to preserve this evidence for as long as possible by assessing, monitoring and treating the inscriptions and the rocks in which they are carved. Dowload our
Monitoring and Preservation brochure
(608k PDF file) to learn more about the projects underway at El Morro National Monument.
Last updated: February 24, 2015