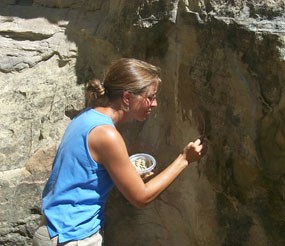 The inscriptions and petroglyphs at El Morro are a part of our heritage, and although they are very old, they will not be here forever. Sand grains are washed away, rocks crumble and fall, and lichens and clay deposits cover the historic carvings.

You may wonder what is being done to preserve the inscriptions. The National Park Service hopes to delay their deterioration for as long as possible by monitoring and treating threatened inscriptions. When the loss of an inscription is imminent, conservators may:
use grout to fill holes, keeping water out.


consolidate loose rock around eroding inscriptions with ethyl silicate and epoxide.


secure inscription panels with drilled pins.


treat with calcium hypochloride (swimming pool bleach) to stop lichen growth over inscriptions.