The U.S. Army Camel Corps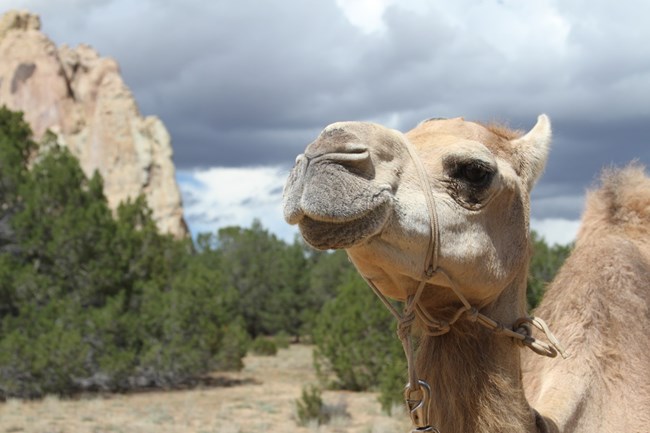 A Novel Experiment
Inscriptions reading "Beale," "Breckinridge," and "Long" recall a novel 1850s experiment by the U.S. Army. Major Henry C. Wayne had long tried to solve the problem of lack of water on the route from the Mississippi River to California through the desert Southwest. In 1855, Major Wayne and others went to Europe and Africa to study the habits of camels in captivity. Eventually buying 33 camels in Egypt and Turkey, and taking on three Arab handlers, they sailed back to Texas and began training.

In the years following the California gold rush, the citizens of the United States petitioned the government to build a road west. In 1857, President James Buchanan appointed Edward Beale to survey and build a 1,000 mile road from Ft. Smith, Arkansas to California. Beale was already well known at the time from his exploits during the Mexican-American War, as well as his trip bringing the first gold nugget from California to Washington, D.C. His task was further complicated by the requirement to bring along 25 camels to test as pack animals in the Southwestern deserts.

When these exotic beasts pulled an express wagon into Los Angeles in December 1857, a newspaper headline read "The camels are coming." Their approach made quite a stir among the native population, most of whom had never seen the like. The article told how camels were content to forage on cactus, could "live well where domestic animals would die", and could pull a load over a mountain where mules balked.

In 1859, the group passed by El Morro for the second time on their journey back. Edward Beale, P. Gilmer Breckinridge, E. Penn. Long, and F. Engle Jr., were all part of the group we now refer to as the "U.S. Army Camel Corps" and all inscribed their name on the rock known as El Morro.

Camp Verde fell into Confederate hands at the beginning of the Civil War, and the camels fell into disuse. After the war, most of the animals were sold at auction. Some ending up in zoos and circuses while others simply escaped. As late as the early 1900s, sightings of feral camels were still being reported from Mexico to Arkansas.
Last updated: October 7, 2022