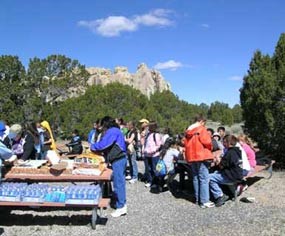 El Morro National Monument's goals for your visit are to protect the unique resources of El Morro and to help provide a safe and educational setting for your students. To do this, we will need your help. By planning ahead and being prepared for what to expect when you're here, a school visit can be enjoyable as well as educational for all.
Prepare yourself and your students before you visit with the
Preparing for Your School Visit Brochure (134 k PDF File)
Reservations need to made at least two weeks in advance and will be considered on a first-come, first-serve basis by calling 505-783-4226 ext. 804.

There is a limit of sixty students per field trip.