News Release
El Malpais NM Celebrates NPS 103rd Birthday with First Ever Naturalization Ceremony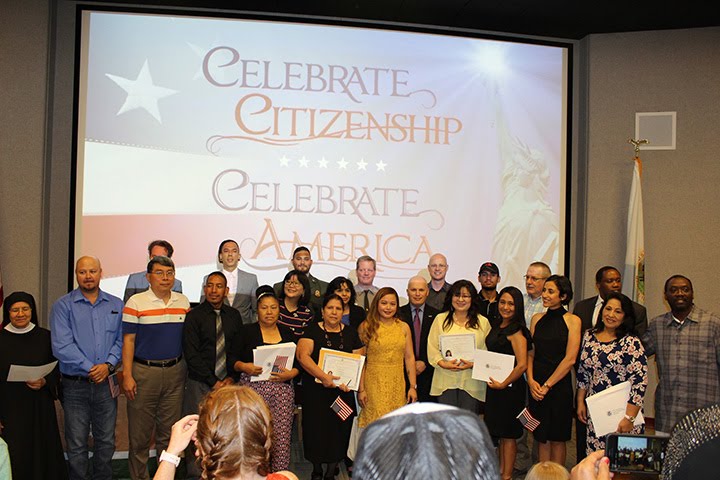 News Release Date:
August 25, 2019
Contact: Ernie Price, 505-285-4641 ext. 18
El Malpais NM - On August 25, 2019 El Malpais National Monument had the privilege of celebrating the NPS birthday by hosting its first naturalization ceremony. EL Malpais NM was honored to welcome 20 candidates, from 12 different countries, for citizenship into the Visitor Center where they took the Oath of Allegiance and became United States citizens. It was a pleasure to get to know our newest fellow Americans and to be the first in their national community to congratulate them on this wonderful achievement!
Organizing the ceremony was truly a team effort and a great deal of thanks is owed to many. Thank you to our speakers: Officers Jesse Mendez and Katelin Wright of the U.S. Citizenship and Immigration Services; Chief of Interpretation Ernie Price and Law Enforcement Ranger Arnel Alanis, both of El Malpais and El Morro National Monuments. Their words were moving, inspirational and conveyed the deep importance of the proceedings. Thank you to Grants High School senior Ms. Alma Gonzales for exceptional renditions of our National Anthem and "America the Beautiful" and thank you to the members of the New Mexico National Guard for their participation as our Color Guard. Lastly, special thanks is owed to Western National Parks Association, the city of Grants, and the Homestake Mining Company for providing refreshments and gifts to our new fellow Americans.

Congratulations to all those who became citizens and thank you for letting us be a part of such an amazing day! We can't think of a better way to celebrate the National Park Service's 103rd birthday! 
Written by Park Guide Nicholas Guarino
Last updated: September 3, 2019