Edison Day 2014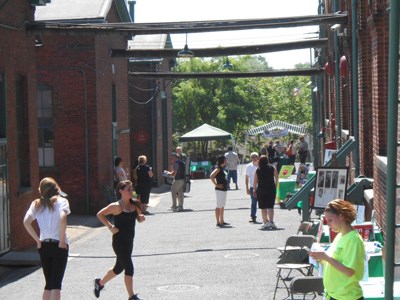 JUNE 7, 2014
WEST ORANGE CELEBRATES EDISON DAY
Parking for Edison Day will only be at 80 Main Street, West Orange or street parking.
Join West Orange as it celebrates New Jersey's 350th at Edison Day. This year the park has joined with many of its West Orange partners to bring you the largest Edison Day EVER!
There will be a street fair, town picnic, stage with live entertainment and the park has many special programs throughout the day. Take a look at the highlights below or download the full schedule of events.
A sneak peak at the events:
American Chemical Society

Did you know that young Edison began experiments with a chemistry set at age 10? By the time he turned 18, Edison was already on his way to inventing some of history's most iconic inventions: the phonograph, light bulb, and rechargeable batteries. Come learn about the role of chemistry in Edison's inventions with posters and demonstrations presented by young scientists and inventors from area high schools. Activities sponsored by the American Chemical Society North Jersey Section.


New Jersey Hall of Fame Mobile Museum
What do Bruce Springsteen, Jon Bon Jovi and Thomas Edison all have in common? They are all from New Jersey and they are all members of the NJ Hall of Fame. Take some time and find out about other members of the hall of fame.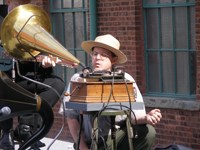 Be one of the first to see the new art exhibition. Submissions are from around the US and all are completed on 2x2 cloth squares. Each square is the artist's interpretation of Innovation – Edison and Beyond. Which is your favorite artwork?
Thomas Edison NHP archivists will host an open house with historic photos and documents that were donated to the National Park Service by Thomas Edison's youngest son, Theodore. The recently cataloged collection of photos and documents, present a glimpse of West Orange rarely seen. West Orange Historian Joe Fagan will join them to chat with visitors.
Stop in Laboratory Building 11 - watch and listen as these New Jersey musicians record on 100 year old phonographs. You decide if it sounds like your MP3 music today.
11:00 -- Larry Fast / Synergy, synthesizer
12:00 -- Bob DeVos, jazz guitar
1:00 -- Jenny and the Felines, rock trio
2:00 -- Demolition String Band, American roots music
Get to meet and talk to real-world owners of electric cars - get the low-down without the media hype. Meet owners of Tesla, Nissan, Ford, Toyota, Honda and more. Find out what it's really like to drive electric. The Electric Cars will all parade in at 11am and then parade out at 4pm. Will be around the Glenmont Garage all day.
Last updated: April 7, 2018