Swimming, Snorkeling, and Diving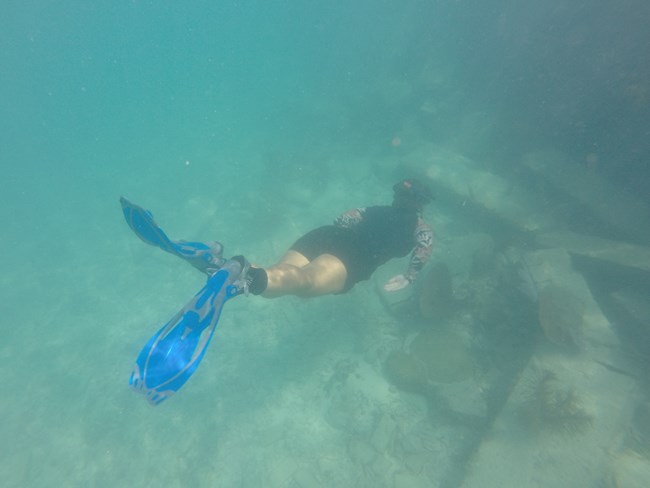 Explore Dry Tortugas Underwater
With less than 1% of Dry Tortugas National Park being dry ground, the best way to see this remarkable national treasure is by getting in the water.
Dry Tortugas National Park is situated at the southwest corner of the Florida Keys reef system, the third largest in the world. Due to the remote location, and easterly flowing gulf current just south of the park, you are sure to discover a much greater abundance of marine life and often much larger versions than anywhere else in the Florida Keys.
Remember: Look, but don't touch!
All coral, reef fish, and cultural artifacts are protected. You should not fear an attack from the marine wildlife, but you need to keep a lookout to make sure YOU don't bump into them. Not only will an accidental brush up against the coral probably kill it, you may be bumping into any number of potentially dangerous animals, include fire coral, jellyfish, sea urchins, or the exotic venomous lionfish.

The park's corals and seagrass communities are among the most vibrant in the Florida Keys. Shipwrecks are just as abundant as marine life. Be sure to follow all rules and regulations while enjoying what Dry Tortugas has to offer. Visit our safety page to learn more.
Remember to not disturb coral or shells. All coral, living and dead, is protected from collection.
Shipwrecks and all historic artifacts are protected by law. You must display an approved dive flag when snorkeling outside of the designated snorkel area.
For your safety, never snorkel alone. Always use the buddy system when entering the water.
Snorkel & Dive Areas
Visitors arriving to Garden Key by way of the commercial ferry or seaplane will be able to explore a variety of unique underwater habitats and cultural artifacts.

IMPORTANT: The ferry and seaplane are unable to carry compressed canisters aboard. If you are planning to dive, plan to arrive by your own boat or a charter vessel in order to bring all dive gear, including dive tanks.
Closure: Sections of moat wall closed to snorkeling
From April to June 2023, approximately one-half of the moat wall will be closed to snorkeling during coral relocation work. Signs will be posted and closed areas will be marked with swim lanes. Beaches and moat walkway remain open.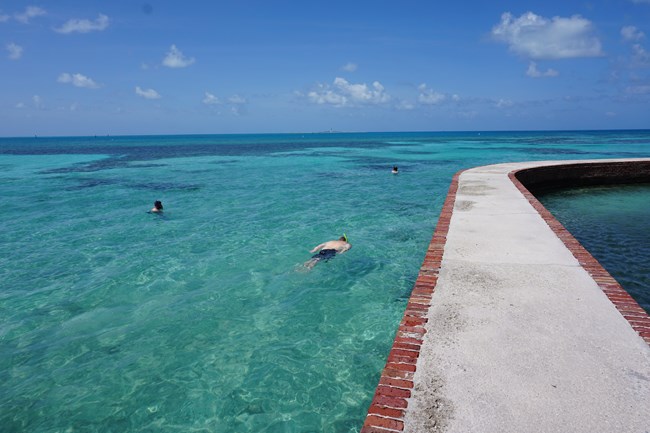 Garden Key & Nearby Sites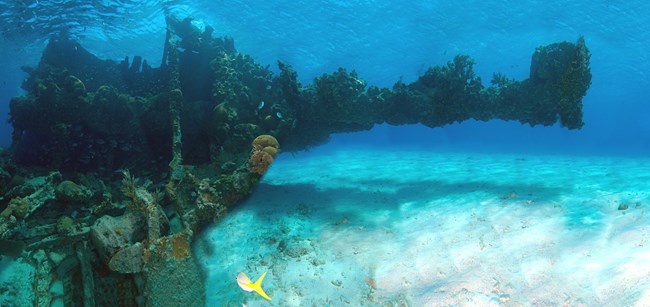 Loggerhead Key Sites
ALERT: The Windjammer dive site mooring ball (SW of Loggerhead Key) has been damaged and is off-station. Please call "National Park Service, Dry Tortugas" on vhf16 when within the national park for latest information on availability of this dive site.
The most popular dive in the park is the wreck known as the Windjammer. Its real name was Avanti. Built in 1875, the three-masted, iron-hulled, sailing ship wrecked on Loggerhead Reef in 1901 on its way to Montevideo with a cargo of lumber. Before diving this site, be sure to pick up a laminated underwater map at the visitor center. This map will provide you with a self-guided tour of the wreck and allow you to make sense of what you are seeing. Depths on this site range from zero feet, where a small piece of wreckage actually breaks the surface, to 20 feet.

It is a perfect place for snorkelers and scuba buffs to dive together. The best visibility on the site is during flood tide. The wreck has the greatest relief from the bottom and the most marine life at the very bow and the very stern of the wreckage. Consult the map to see how to locate those points since the ship is broken in half and you may become a bit confused without the guide. The site is a veritable aquarium of reef-dwelling, free swimming, and benthic (bottom) life. The structure serves as an artificial reef attracting a host of fish ranging from 200-pound jewfish to small tropical.
Located off the north side of Loggerhead Key, this area is protected, shallow, and calm-a great place for snorkelers, and under most conditions, for children. Juvenile barracuda, lobsters, corals heads, soft corals, and tropical fish are usually visible.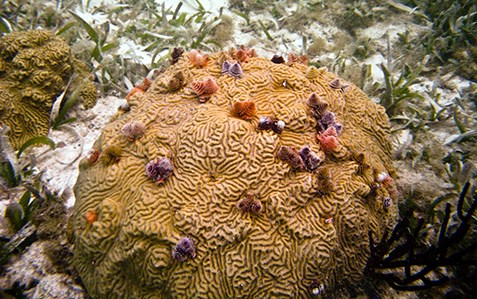 Eastern Park Boundary Sites
This area marks the eastern boundary of the park. A navigational light tower marks the shoals themselves. Here the reef consists of scattered very shallow coral heads. In the days before navigational aids and accurate charts, these shoals claimed many ships and as a result, the diver can find the scattered remains of a wide variety of shipwrecks. When diving these sites, please remember to leave all the artifacts where you find them. This courtesy will allow other divers who come after you to enjoy the same sense of discovery. It is also against the law to remove any cultural artifacts and this particular law carries some serious penalties for divers who ignore it.
For more adventuresome diving, go just beyond the boundary buoys in about 75 to 80 feet of water and follow this depth curve looking for changes in reef elevation. It should not take long to find open ocean critters that will make for some exciting diving. Be very careful of the currents out here, as they are strong and variable in direction. As you descend into the deep blue water, you can expect to see very large grouper, and abundance of snapper, and often sharks. Black tips, hammerheads, bull, and nurse sharks are all common sights out here. In addition, you may also get to see turtles and some large formations of eagle rays. The diving out here is not for the timid or the novice diver. Be sure you know what you are getting into before you take the plunge. If you get yourself into trouble out here, you are a long way from help.
Helpful Snorkel & Dive Resources
Plan Your Trip

Plan your trip to Dry Tortugas, including transportation, eating and sleeping, and safety.

Corals

Learn more about the 30+ species of coral living at Dry Tortugas

Reef Fishes

Learn more about the fishes at Dry Tortugas
Last updated: April 11, 2023