River Campsites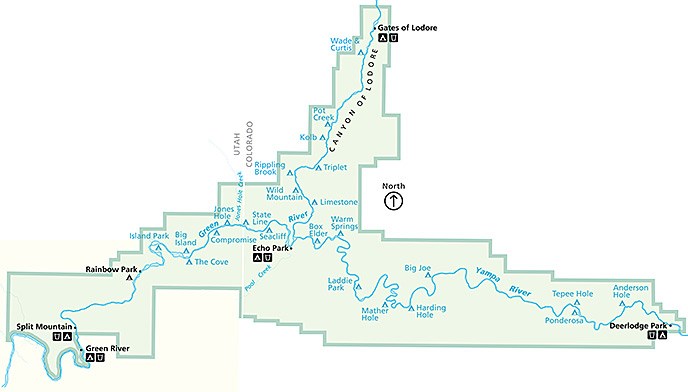 River Mileages
Lodore Canyon
Yampa Canyon
Whirlpool/
Split Mountain
Number


of

sites
Mileage
Between
Camps
Number
of sites
Mileage
Between


Camps

Number
of

sites

Mileage
Between
Camps
Gates of

Lodore

17

*

Deerlodge
Park

7

*

Echo Park

*

Wade &

Curtis

1

3

Anderson Hole

1

4

Seacliff

1

4

Pot Creek

2

6

Ponderosa

1

5

State Line

1

1

Kolb

1

1

Tepee Hole

1

1

Jones Hole

4

2

Triplet

1

2

Big Joe

1

12

Compromise

1

1

Rippling Brook

2

2

Harding Hole

4

4

The Cove

1

4

Wild Mountain

1

1

Mather Hole

1

2

Big Island

1

0.5

Limestone

1

2

Laddie Park

2

7

Island Park

1

0.5

Echo

Park

*

2

Warm Springs

1

7

Rainbow Park

*

4

Box Elder

3

2

Split Mountain

*

9

Echo Park

*

2



* Campsites are available at Gates of Lodore and Deerlodge Park prior to launch. Rainbow Park and Echo Park campgrounds are not for groups on multiday river trips. Split Mountain Campground may be reserved through Recreation.gov.
Camping Regulations
During high-use season, camp only in assigned campsites. During low-use season sites are available first-come, first-served, and the River Office will try to inform if there are conflicts.
Campsites must be packed up and boats loaded and moved out of landings by noon to allow the next group to occupy the site.
Adhere to Leave-No-Trace principles and leave your campsite as you found it or in better condition.
While on a multi-day river trip, camping is not permitted at Echo Park, Rainbow Park, or in Split Mountain Gorge.
Only one group per campsite. A maximum of 25 river trip participants per site is allowed on private trips.
When in areas with multiple campsites, respect your neighbors. Quiet hours are between 10:00 PM and 6:00 AM. Each group must remember to stay within their assigned, designated site; do not spill over to the next site (look for posts to distinguish boundaries between areas with multiple campsites, e.g., Jones Hole, Harding Hole).
The Superintendent may close campsites for resource management or safety concerns (such as bighorn sheep lambing season, bear activity, or wildland fires).
Refuse
Cans, rubbish and other refuse may not be discarded in the water, along the shore of the river, in side canyons, trails, or any other portions of the canyon. All refuse material must be carried out. Keep a clean campsite. Trash deposits cannot be made at Echo Park or Rainbow Park. Liquid garbage and dishwater must be strained directly into the river through a rigid fine-mesh screen capable of holding small food particles. Place the solids in garbage bags that are stored in an animal-proof container. Use the disposal containers located at Split Mountain Boat Ramp or remove trash completely from the monument. The use of kitchen ground tarps to collect food crumbs is required. Kitchen ground tarps must be placed under all food preparation and serving tables to leave the beach free of food scraps. Put food particles collected on your kitchen ground tarp into the trash. Crushing food and beverage cans must be done on a tarp or below the high water line in a manner that will not leave food particles, liquids, or paper on the beach.
Use of Soap
The use of soap is restricted to the mainstream of the Green and Yampa Rivers. Stand in the main flow of the river to use a solar shower. A dish washing setup and handwashing station, using biodegradable soap, should be placed in the wet sand below the high water mark or in such a way as to leave the beach free of soap and food spillage. Use of soap in side streams or on shore within Dinosaur National Monument is prohibited.
Portable Toilets
It is the responsibility of each party to remove solid human waste and all toilet paper from the river corridor.
Carry-out System for Camps. A human waste carry-out system must accompany all trips on the river. This system needs to contain washable, reusable, human waste containers approved by Dinosaur National Monument. The waste carry-out system must provide for secure containment and an adequate volume of storage. Only put feces and toilet paper in groover. Feminine hygiene products and/or baby wipes are not appropriate for the monument's septic system when cleaning the groover. Plastic or metal waste containers must be sturdy enough to withstand strong impact and have a leak-proof lid (even when inverted). Bag systems (such as wag bags or PET systems) are only permitted for small craft, self-supported river groups. Bags need to be stored in a crush-proof container.
Urination. Urination must occur in the river or in your toilet. If you must urinate while hiking away from the river, go "High and Far" at least 100 feet from trails, backcountry campsites, and side streams to avoid the buildup of urine.
Carry-out Systems for All Other Times. A portable "wag-bag" like system is recommended to be accessible during the day and carried on all side hikes.
Toilet Paper. Deposit toilet paper in the human waste carry-out system. Do not burn or bury toilet paper.
Fires
A fire pan is required if you intend to build a fire. Fire pans must be elevated off the ground with legs, rocks, or other items. It must be appropriate for the size of fire. A fireproof blanket or welder's cloth must be carried and placed under a fire pan and must be of sufficient size to catch coals and ashes around the fire pan. Fire ash must be strained and large/floatable contents removed, before the remainder may be deposited in the main river current. All floatable fire residue must be carried out. Trips are only required to have a fire pan and fire blanket if building a fire. If there is a 'no open flames' fire ban in the monument, open fires are prohibited.

Gathering firewood of any kind is prohibited on the Green River above Echo Park year-round. Driftwood may be collected along the Yampa River, and along the Green River below Echo Park. Gathering other types of wood (dead, down or live) is prohibited at all times on both rivers.

Explanation: Driftwood has become scarce in Lodore Canyon because 1) Flaming Gorge dam blocks wood from upstream source areas and 2) reduced spring peak runoff volume is insufficient to wash new woody material in to the river. High spring floods occur on the free-flowing Yampa, where large driftwood piles can still be seen. Coarse woody debris (driftwood, trees, branches, etc.) provides an important food source for aquatic invertebrates, but food webs in the Green River have been altered and diminished by Flaming Gorge dam operations. Restrictions on driftwood gathering in Lodore help preserve this dwindling resource. Standing dead, down and live wood provide habitat for cavity-nesting species and insects, which are food for birds and other animals. These resources are protected in all national parks.
Campsite Impacts
River runners must set up camp on sandbar areas or in established tent sites within designated river camps. Desert and riparian plant communities are particularly susceptible to damage and erosion due to trampling. Do not damage any vegetation or create new hiking routes or sleeping areas in the fragile desert zone. Social Trails Social trails create impacts on vegetation along backcountry trails and at campsites. Stay on well-established trails and avoid short-cutting across fragile desert soils.
Wildlife
You are camping in bear country. All food, garbage, and scented items must be stored in a durable metal or plastic container and secured with a latch or strap when not in use. Proper food storage will also help keep smaller animals, such as skunks, from causing issues at river campsites.
Aquatic Invasive Species (AIS)
Please clean and inspect boats as a preventive measure to minimize the spread of aquatic invasive species (AIS). AIS (such as zebra mussel, New Zealand mudsnail, or quagga mussel) can have devastating effects on the ecology of river ecosystems. Clean and thoroughly dry your boat between river trips, and help keep Dinosaur's rivers healthy.
Last updated: March 14, 2019