Lower Sand Canyon Route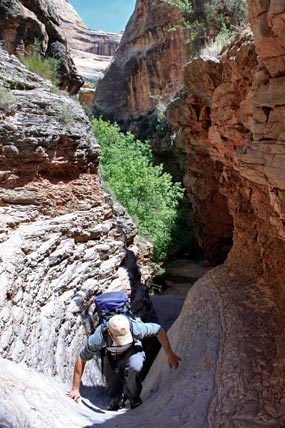 This is not an established trail and requires route finding and navigation skills.
Length: Approximately 8 mile round trip loop. This can be shortened if you arrange to have one vehicle at the trailhead at Echo Park and the other at the Yampa Bench Road.
Difficulty: Moderately difficult. Some route finding and navigation skills required along with occasional scrambling.
Trailhead: End of the Echo Park Road. High clearance vehicles are recommended for this road. You could also start from the Yampa Bench Road and hike down the canyon.
Map: Much of the route is shown as a trail on the Dinosaur National Monument Trails Illustrated Map. This map is available for purchase from the park bookstore.
Description: If you start this hike from the end of the Echo Park Road, you will hike past the confluence of the Yampa and Green Rivers, the base of Jenny Lind Rock and then enter the narrows of Lower Sand Canyon. There are dramatic views over the wild Yampa River and back toward Echo Park. A short distance past the confluence of the Yampa and Green Rivers there is an established foot path until the location where Lower Sand Canyon empties into the Yampa River. Once you enter Lower Sand Canyon, your route is determined by the river channel. There are a few areas that may require wading through pools of water in wet years or in spring. Some areas also require scrambling up rock slopes.You will ascend up the canyon until you come out on the Yampa Bench. From there, you can head directly to the Yampa Bench Road to a vehicle (if you parked on there) or, head west across the bench until you intersect the Echo Park Road. Make sure you stay far enough south to avoid cliffs above the road. There is no shade on the Yampa Bench. Once you intersect the Echo Park Road, follow it back to the trailhead past the Echo Park Campground.
Special Considerations: As previously mentioned this is not an established or maintained hiking trail. Hiking this route requires basic navigation and route finding skills. Carry plenty of water. Do not attempt this hike if thunderstorms are eminent. The narrow canyon offers no escape path in the event of a flash flood. This is also mountain lion country. Though sightings are rare, know what to do if you encounter one. Do not disturb any historic or cultural sites you may find.
Last updated: February 24, 2015