Dinosaur's 100th Anniversary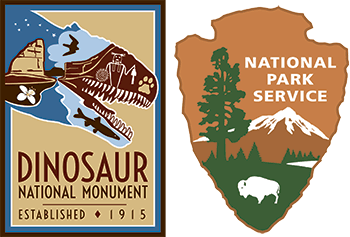 On October 4, 1915, 80-acres of fossil-rich land in Northeast Utah were set aside as Dinosaur National Monument to protect "an extraordinary deposit of Dinosaurian and other gigantic reptilian remains of the Jurassic period." A second proclamation signed in 1938 recognized the surrounding area's spectacular scenery, geology, ecology and rich cultural history and expanded Dinosaur National Monument from 80 acres to over 210,000 acres, spanning the Utah-Colorado border.
From April through October 2015, a variety of special events and projects commemorated the 100th anniversary of the establishment of Dinosaur National Monument and the diversity of resources it protects. We thank everyone who joined the celebration!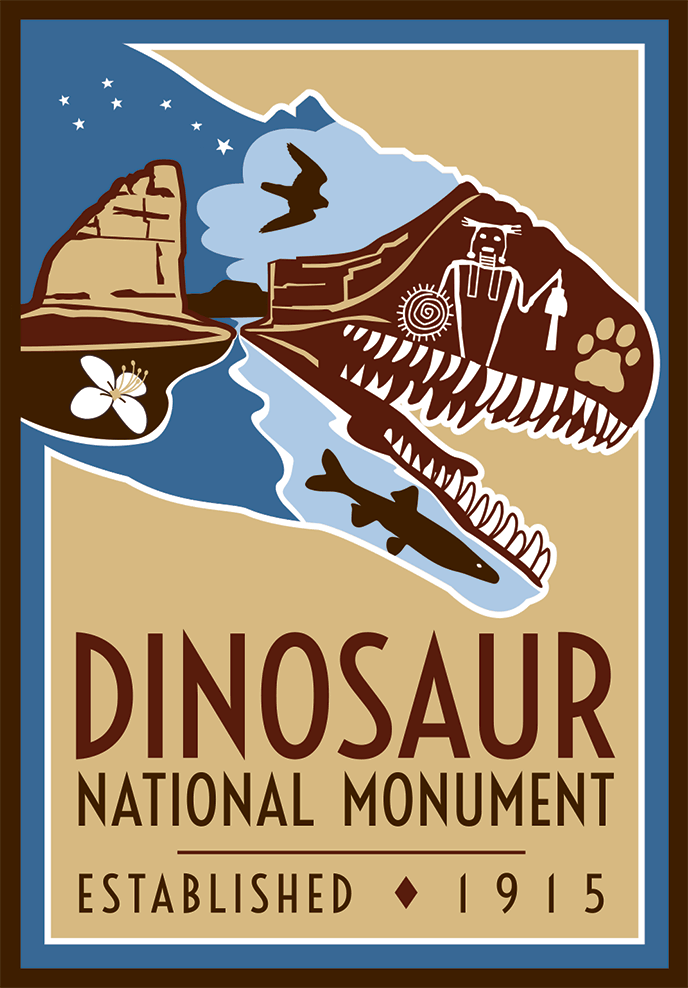 What can you find when you explore Dinosaur? The logo artwork above celebrates the 100th Anniversary of Dinosaur National Monument's establishment with symbols of the great diversity of life and landscapes found here: the Little Dipper, peregrine falcon, McKee Springs petroglyphs, mountain lion track, endangered Colorado pikeminnow, red diamond brand, the Green and Yampa rivers, park rockcress flower, Steamboat Rock, and Allosaurus.
Each image is part of the bigger picture of what makes Dinosaur National Monument a special place for so many people.(Clockwise from the logo's upper left.)
Little Dipper: Some of the darkest night skies in the nation span these mesas and canyons. Fainter stars, such as those found in the Little Dipper, are often obscured by city lights yet shine bright in the skies over Dinosaur.
Peregrine Falcon: Birds are the descendants of dinosaurs and over 260 species make their home or migrate through here. Recovery efforts brought peregrine falcons back from the brink of extinction.
McKee Springs Petroglyphs: Evidence of over 10,000 years of human connections to this land occurs as rock art, home sites, oral traditions and other artifacts. Many impressive figures and designs date back 1000 years to the Fremont culture.
Mountain Lion Track: We are guests in the home of a variety of wildlife –large and small—who deserve our respect as wild creatures. Sightings of mountain lions and bears may be rare, but their signs are plentiful if you know where to look.
Colorado Pikeminnow: Natural flows from the Yampa River sustain critical habitat for native fish species including four that are endangered. The endangered Colorado pikeminnow was once the top fish predator in the Colorado River Basin, but now it has trouble competing with introduced sports fish such as bass.
Red Diamond Brand: Pioneers and ranchers have grazed cattle and sheep here since before the monument was established. The Chew family has used a red diamond brand for generations and are one of several families who still graze livestock here.
Green and Yampa Rivers: The cool, clear waters of the dam-regulated Green River meet the fluctuating, silty waters of the free-flowing Yampa River in the heart of Dinosaur's Colorado canyon country at Echo Park. Both rivers provide ample opportunities for discovery and adventure.
Park Rockcress Flower: Over 700 species of plants take root across 6 distinct ecosystems. The rare and endemic park rockcress is especially fond of the sandy soils that erode from the Weber and Nugget sandstones.
Steamboat Rock: Dinosaur's dramatic landscapes are eroded from 23 different rock layers, all exposing details of varied environments and life through vast amounts of time. An early conservation battle was fought and won here in the 1950s with the defeat of a dam project that would have flooded Echo Park and turned Steamboat Rock into a tiny island.
Allosaurus: Although today's Dinosaur National Monument preserves so much more than dinosaurs, it is the incredible concentration of fossilized Jurassic giants exposed at the Carnegie Quarry that remains the main visitor draw for over 100 years.

Last updated: March 20, 2016