Kids & Youth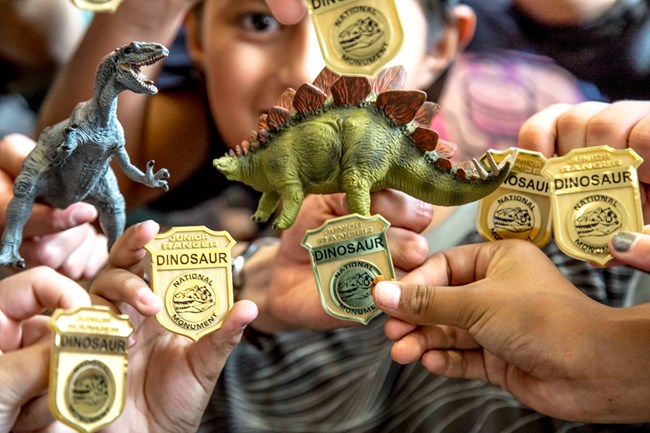 Children of all ages are interested in dinosaurs, and Dinosaur National Monument is a the place to get up close and personal with the fossils of this giant creatures. You can see bones from and learn about Allosaurus, Stegosaurus, Diplodocus and Apatosaurus, to name just a few.
Beyond dinosaurs, there is much more to do in the monument. You can see rock art, called petroglyphs, which were left by the Fremont people nearly 1,000 years ago. You can also take a hike, go camping, enjoy the night sky or watch wildlife.
Become a Junior Ranger!
Explore, Learn, Protect - this the motto of Junior Rangers. Junior Rangers make a promise to protect parks, continue to learn, and share their own ranger story with friends and family.
The NPS Junior Ranger program is an activity based program amnd many national parks offer young visitors the opportunity to join Junior Ranger "family". Complete a booklet of activities during your visit and share your answers with a ranger to receive an official Junior Ranger badge. Junior Rangers are typically between the ages of 5 to 13, although people of all ages can participate.

Click here to learn more about Dinosaur's Junior Ranger Program.

For a complete list of NPS sites with Junior Ranger programs, click here.
Every Kid Outdoors
Every Kid Outdoors allows U.S. 4th graders and family members free access to over 2,000 federal lands and waters so you can discover our wildlife, resources, and history. Every Kid Outdoors creates crucial connections to public lands and inspires a future generation of stewards for America's spectacular national parks and other public lands.

To obtain a pass, fourth grade students can visit the bilingual Every Kid Outdoors website, participate in a short educational activity, and then download a paper voucher to print and bring with them to visit public lands and waters all across the country.



Last updated: February 18, 2022