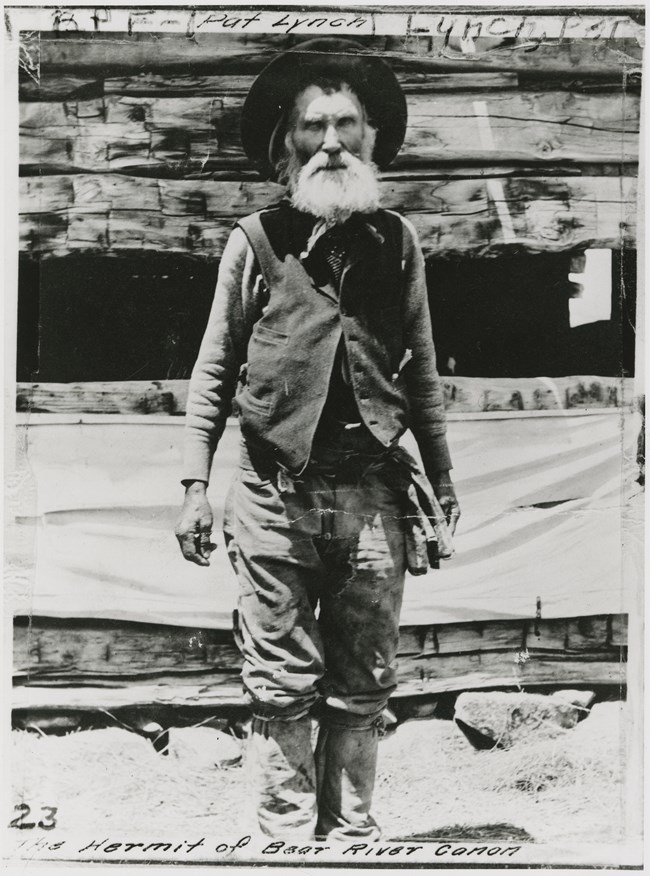 Of all the explorers and adventurers that have passed through Dinosaur probably none were as intrinsically interesting as Pat Lynch, "the hermit of Pat's Hole." Despite the fact that Pat lived in and around dinosaur for over 40 years few of his friends knew many details about his past. Never-the-less he was well liked and the area we now call Echo Park was affectionately referred to as Pat's Hole by the local populace.
Pat was born in Ireland and came to the US in 1853 but his exact birthdate remains unknown. He enlisted in the U.S. Navy under the alias James Cooper in September of 1860. He would serve on various ships through part of the Civil War traveling to the coast of Africa, the West Indies, Haiti and participating in the naval blockade of the Confederacy. He participated in the attack on Fernandina on the Florida Coast, during the battle an unexploded shell landed on his ship and when he was ordered to push it overboard it exploded breaking his right leg and fracturing his left.
Pat was discharged from the Navy in 1862 and travelled to Chicago where he served as a watchmen for the U.S. Army Quarter Master Department. He served in a similar capacity first in Tennessee and later in Arkansas for most of the rest of the war. Later in 1867 he would enlist in the U.S. Army Company K 37th Infantry under his true name Patrick H. Lynch in Kentucky where he would be transferred to various posts until his eventual discharge in what was then Colorado Territory in July of 1870.