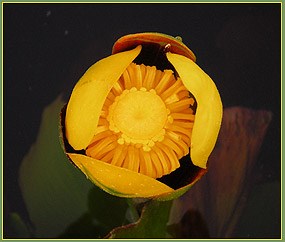 During spring and summer, wildflowers abound in the park. Visitors can view such beauties as butterfly weed, wild bergamot, purple coneflower, and brown-eyed susan without ever leaving their cars. However, those walking the trails will discover much more.
Each spring, trout lily, wake-robin, and Solomon's seal reward those hiking the boardwalk at Dingmans Falls. In the hardwood forests, hepatica and bloodroot welcome spring with their delicate bursts of beauty. Unusual flowers, such as Dutchman's-breeches, looking for all the world like rows of laundry hanging out to dry in some strange miniature world, provide a moment of comic relief. Wild columbines provide ruby-throated hummingbirds with sips of nectar. In summer along the Delaware River, cardinal flowers and blue lobelias bravely show their striking blooms as they struggle to survive an invasion by the non-native purple loosestrife.
Along roadsides, giant cow-parsnips tower above companions, sporting bouquets of tiny white flowers at the top of their 4-8 foot stems. Head to head with the parsnips, yellow flowers of the common mullein peek out from the tops of their thick velvety stems, looking out of place, as indeed these invaders from Europe are. By September, the goldenrods and asters dominate the landscape, their late-summer flowers producing nectar for migrating monarchs and other butterflies.