Fleeting Beauty: Spring Wildflowers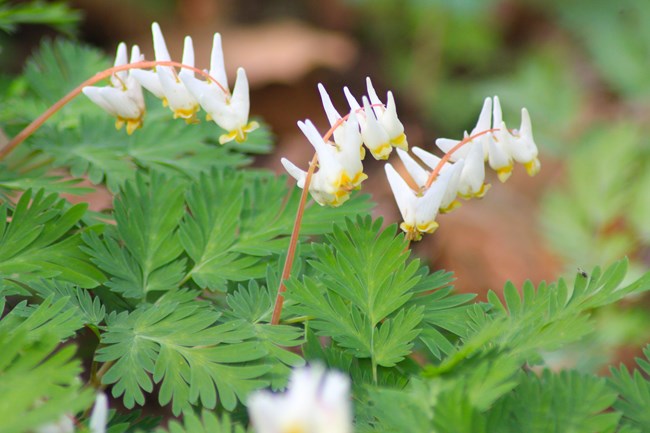 The annual blooming of early spring woodland wildflowers is a special beauty to behold, especially after a long winter. You won't want to miss it, but you will unless you get out to see them in the few weeks they are here.

From mid-April to mid-May, a variety of delicate wildflowers emerge through the cold damp soil of local deciduous forests almost as soon as the snow melts with the growing light and warmth of the sun. These wildflowers transform the stale browns and greys of the forest floor into a delightful living patchwork of colors, including shades of white, green, yellow, pink, blue, and red. Species include the aptly named Spring Beauty, Trout Lily, Hepatica, Bloodroot, and Dutchman's Breeches.

All of these wildflowers are collectively referred to as "spring ephemerals," because they are only visible for a short period of time in the spring. They are special plants, with special abilities to take advantage of – and cope with – the unique ecological conditions in deciduous forests this time of year. They all take advantage of the abundant sunlight that is available to them before the trees and shrubs leaf-out and shade the forest floor. But they also must not emerge too soon to avoid being killed by snow and frost. Spring ephemerals are absent or rare in evergreen forests where trees shade the forest floor year-round.

The fast, early growth of spring ephemerals is make possible by their underground bulbs, tubers, and rhizomes that store nutrients and energy. After they've grown leaves, the leaves produce and store more energy through photosynthesis. Soon after the deciduous trees and shrubs leaf-out and shade the wildflowers, their above ground parts die-back, leaving little or no evidence of their existence. But their underground bulbs, tubers, and rhizomes remain.

Many of these species can only survive in particular habitats, and depend on particular insects to pollinate their flowers, and ants to disperse their seeds. Attempts to dig them up and transplant them usually only results in their death, and is illegal in Delaware Water Gap National Recreation Area. Please leave them undisturbed to maintain them in the wild.


Last updated: April 18, 2019