NATURE & SCIENCE: Environmental Factors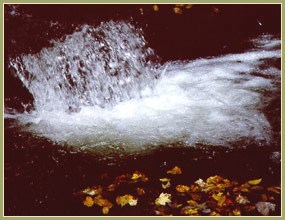 The Delaware River within the park has very high quality water that is protected from degradation by Special Protection Water Regulations adopted by the Delaware River Basin Commission (DRBC). These unique regulations established definitions of existing conditions and prohibit measurable change. The National Park Service and the DRBC monitor to assess if the regulatory parameters are changing over time.
Most park streams also have very high quality water. A few streams flowing through urban areas show indications associated with human development including elevated fecal coliforms, increased nutrients, and increased sedimentation. All but one park stream originates outside park boundaries therefore adjacent land use practices can impact water quality. Regulations similar to those that protect the water quality of the river are proposed once baseline conditions are defined.
The lakes and ponds in the recreation area are generally of good water quality although some have significant aquatic plant growth that can cause depressed dissolved oxygen concentrations when large quantities of aquatic plants die and decay.
PLEASE NOTE!
Water from the river, streams, ponds or lakes should not be consumed without proper treatment. Giardia cysts are common in natural surface waters in the region and the consumption of untreated water can cause illness.


Last updated: November 3, 2017