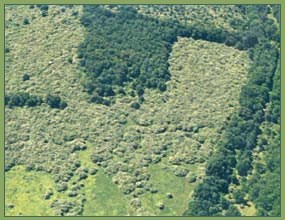 Plants from far away find a new home. Many times they're purchased at a local nursery and planted because they're pretty; but they don't just move in and settle among their neighbors, they take over the neighborhood and kick everyone else out!

Invasive exotic plants can outcompete native species and form vast monocultures, changing entire ecosystems in the process. Some can change soil pH, produce toxins, outcompete native plants, and destroy critical habitat for many birds and animals. They threaten cultural landscape vistas, the health and safety of park visitors, vegetative riparian buffers along rivers like the Delaware and its tributaries, and State Natural Heritage Program Rare Plant Communities of Special Concern.

Upland areas are threatened by tree-of-heaven (Ailanthus altissima), autumn olive (Elaeagnus umbellata) (above), multiflora rose (Rosa multiflora), oriental bittersweet (Celastrus orbiculatus), Norway maple (Acer platanoides) and honeysuckle species (Lonicera spp.)

Wetland and riparian areas are threatened by purple loosestrife (Lythrum salicaria), common reed (Phragmites australis), and knotweed (Polygonum spp), while the forest understory is invaded by Japanese barberry (Berberis thunbergii), garlic mustard (Alliaria petiolata), and Japanese stiltgrass (Mycrostegium vimineum.)

Invasive exotics are not only plants, some of them are insects as well. Hemlock woolly adelgid is an aphid that attacks and kills hemlock trees-- trees that can normally live up to 400 years. Hemlock trees are a key component of our forested ecosystem, important for fish, birds, mammals and insects alike.

Human populations within a 6-hour drive of the Water Gap are expected to double within the next 20 years from 60 million to 120 million. With all of the construction, disturbance to natural systems, and land use requirements it will entail to house these people, native plant populations and ecosystems will be further stressed and even now-common native species may be in danger of decline. It will be more important than ever for protected areas such as national parks to serve as reservoirs for native species.