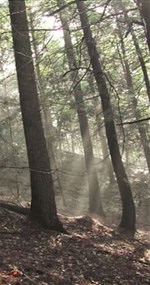 The Foundation
The hemlock--the longest-lived tree of the Eastern United States--can live as long as 800 years. Though greatly reduced in numbers since pre-colonial times, in 1931 the hemlock was named the state tree of Pennsylvania.
The hemlock is the foundation species of a distinctive ecosystem that abounds in clear cold waters, acidic soils, and the darkest shade. The dense evergreen crowns of hemlocks shield the forest floor from sunlight year-round, resulting in bare slopes with scattered patches of shade-loving wildflowers and ferns. Each generation of new trees is limited to hemlocks and a few species of hardwoods that are very shade-tolerant.
However, hemlock ravines today are a forest in transition. Its momentum is ongoing; you can see the changes even as here today.