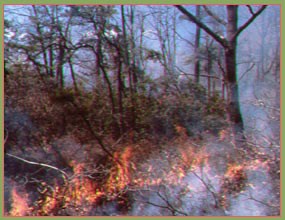 Regimes are the total pattern of fires in vegetation, over time, that are characteristic of a natural region or ecosystem including variations in ignition, fire intensity, and behavior, fire size, recurrence (or return) intervals, and ecological effects.
The majority of Delaware Water Gap National Recreation Area is heavily forested with various eastern hardwood forest types. These forest types are considered to have infrequent, low-intensity surface fires with a recurrence (or return) interval of more than 25 years. Most of these fires are usually small in area.
While natural fires once played a variety of roles in the natural ecosystems that existed in this area prior to the arrival of the Native Americans, historical evidence indicates that since the arrival of the Native Americans, and up to and including the present time, the vast majority of wildland fires in this area (and in the eastern United States) have been caused by people. These person-caused fires have, in turn, had their own profound effect on these ecosystems.
The park has a prescribed fire program that recreates the natural fires of the past. The objectives of the prescribed fire program in this park are primarily to maintain scenic or historic vistas and to promote the growth of native grass species.