Ferns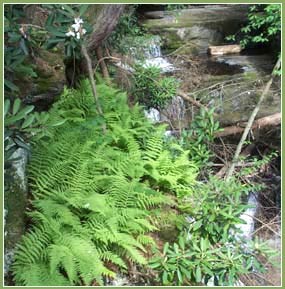 From the lush banks alongside Old Mine Road to the hiking trails through forests and along streams, ferns thrive throughout the park.
After remaining mostly dormant during the winter, evergreen ferns such as the Christmas Fern unwind their scroll-like fiddleheads each spring, revealing beautiful new fronds. Throughout the spring and summer and well into the fall, species like the Evergreen Wood Fern carpet the moist floor of the park's hemlock forests with their size and abundance.
Ferns can also be seen sprouting from the ledges of the park's many beautiful waterfalls, where they benefit from the moist micro-habitat of the splash zone. Dingmans Falls, in particular, is home to a variety of different ferns, from the Rock-Cap Fern stretching precariously out over the falls, to the tiny Maidenhair Spleenwort Fern peeking out from slim rock cracks and crevices.
Already well-established almost 300 million years ago, ferns -- about 70 different fascinating species of them -- await the visitor now.


Last updated: July 26, 2018