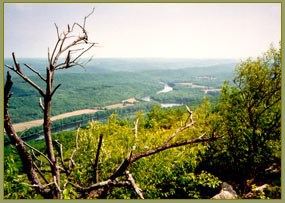 The quality of the air in and around Delaware Water Gap National Recreation Area is generally considered Good. This normally translates into excellent viewshed conditions of the park's natural and cultural resources.

Occasionally, during summer heat spells, inversions of atmospheres can occur causing higher levels of ozone and haze. On average, the recreation area may experience about 14 such days during a summer. On these days, the views and vistas of the water gap, the river valley, and the Kittatinny Mountains can be somewhat obscured.

Certain national parks are classified as Class 1 air quality parks, which indicates that there is intensive air quality monitoring in those parks. Acadia and Shenandoah national parks are examples of Class 1 category air quality parks.

Delaware Water Gap National Recreation Area is in the Class 2 category of national park units with regard to managing air quality as a resource. This means we can gather data from outside sources to monitor air quality. This is accomplished through several nearby air quality monitoring stations including Scranton, PA and Sussex County, NJ.