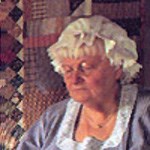 New Jersey
Several groups augment the recreation area's maintenance and interpretive programs by
presenting historic sites to the public.
The Montague Association for Restoration of Community History (MARCH) operates two historic properties in Montague, NJ, and has been particularly successful in establishing exhibits from donations made by past residents of the area. MARCH offers tours, lectures, and special holiday events. Just occupying the once-vacant structures is, in itself, a priceless form of upkeep.
Millbrook Village Society has spearheaded the raising of two barns and a 19th century gristmill, filling voids left in the village from arson and a failed dam project. The society supplies demonstrators and craftsmen to interpret lifeways to thousands of visitors during Millbrook Days each year. Volunteers operate a wagon shop, blacksmith shop, and woodworking shop open to the public.
Walpack Historical Society formed in 1986 to preserve the heritage of the Walpack Center Historic District on the New Jersey side of the park. The Society supplies docents to interpret the nearby Van Campen Inn, and holds an annual Van Campen Day.