Touring Old Mine Road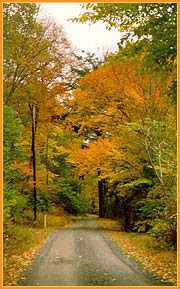 Old Mine Road is one of the oldest continually used roads in the United States. The 250-year old route is made up of several roads that form the park's main north-to-south passageway in New Jersey. There are even spots like the Van Campen Inn and Hamilton Ridge near Millbrook where you can still walk on the unpaved roadbed once trod during the region's early history.

The origins of the road are shrouded in mystery. The popular story is that it is the road that was used to haul copper from the mines to port cities dozens of miles away, but there is no evidence of activity at the required scale. The more likely explanation is that old Lenape – and later, colonial – trails gradually widened with use. This provided clearer paths for people wanting to reach different locations.

Over time, the road evolved and shifted as more people poured into the Delaware River Valley and built their lives alongside it. By the dawn of the 20th century, the New Jersey side of the Gap was a picturesque landscape of farms and villages along bumpy roads tucked between the mountain ridges. Tourism was booming, and many hotels and guesthouses welcomed visitors in their new cars. Some of those still standing today include Mountain Side House/Coppermine Inn at Turtle Beach, Delaware View House at Walpack Bend, and the Ferncliff Hotel in the center of Peters Valley.

Today, a "windshield tour" of the New Jersey side of the park provides snapshots of Old Mine Road's past. The rough roads force you to slow down and pay attention. These scenic drives give you a glimpse into life in the past as you peek through the trees.


Last updated: October 6, 2023