Touring Old Mine Road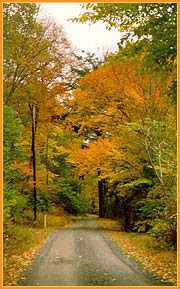 A 250-year-old roadway named for the mines at Pahaquarry, Old Mine Road forms most of the Old Mine Road route that stitches together sections of several roads into the park's main passage in New Jersey. At Fort Carmer and Van Campen Inn and at Hamilton Ridge Trail near Millbrook, you can still walk on the original unpaved road bed once traipsed by Dutch farmers, by colonial Americans, and by soldiers of the French & Indian and Revolutionary Wars.
By the heyday of resorts of the Water Gap around 1900, all traces of Native American settlement had receded into the river's floodplain; western New Jersey was a landscape of farms and villages strung along bumpy north-south roads tucked between the ridges. A handful of hotels, like the Karamac (a favorite with the young set) and several farmhouses-turned-guesthouses welcomed the new "automobilists" who ferried with their cars over from the Pennsylvania side. Still standing today are Mountain Side House (Coppermine Inn) at Turtle Beach, Delaware View House at Wallpack Bend, and Hotel Ferncliff in the center of Bevans, now called Peters Valley.
Today, a "windshield tour" of the New Jersey side of the park still retains much of the pleasure and flavor of 100 years ago. Though forest has grownback over many of the farm fields, the remaining villages still retain their 19th century scale, and the grandeur of river, ridge, and waterfall are the same as they were in in the 1800s.


Last updated: July 16, 2018