Tocks Island Dam Controversy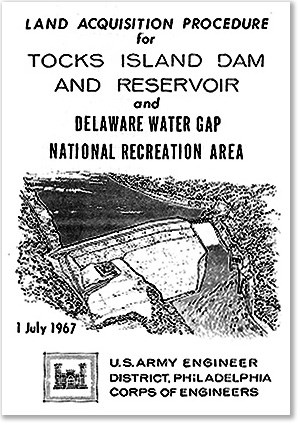 In August of 1955, Hurricanes Connie and Diane battered the eastern seaboard of the United States. In the Poconos, river and streams overflowed their banks; nearly 100 people lost thier lives on the banks of Broadhead Creek alone.
Congress responded quickly, commissioning the Army Corps of Engineers to dust off a 1930s river basin study and determine the viability of constructing dams and reservoirs along the Delaware, with one dam on the main stem of the river at the southern tip of Tocks Island.
The proposed Tocks Island Dam would have created a lake-sized reservoir roughly 40 miles long and a mile wide. Before building it, some 600 families and property owners whose land would be inundated had to be displaced. Some of these families had lived on and worked the land for centuries.
Also, to offset some of the cost of the project, the Army Corps rented some of the newly acquired properties for the short term. Those who had unwillingly sold their homes now saw their land and houses occupied by people from outside the valley.
It was a turbulent era: Vietnam, Civil Rights, Back to the Earth. Grassroots organizations of citizens, scientists, educators and legislators began to mobilize in a new and uniquely American struggle -- the Environmental Movement. Congress responded with the Clean Air and Water Acts, the Endangered Species Act, and the National Environmental Policy Act.
A few earnest voices against the dam in 1964 grew to a uproar by 1971. New studies challenged the wisdom of converting a beautiful river into a stagnant body of water. Decision-makers in the basin states recoiled at the studies' projected costs of expanding local infrastructure for a new recreation area that would attract so many millions to a previously quiet place.
In 1975, the Delaware River Basin Commission, composed of the four basin-state governors and one federally-appointed commissioner, voted to shelve the Tocks Island Dam project. The land already acquired by the federal government was handed over in its entirety to the National Park Service for stewardship, and Delaware Water Gap National Recreation Area, originally intended as a narrrow swath of land around a reservoir, became a 70,000 acre park with 40 miles of protected free-flowing river.
Though it had promised drought abeyance, flood mitigation, power generation, and lake-based recreation, in the end, the project was deemed too costly. A long and often bitter battle had ended, and the modern era of environmental consciousness in government had begun.
Transcript
Two rangers stand in front of the Delaware River with mountains in the background:
(Female voice one) Hi. I'm Ranger Anna. (Female voice two) And I'm Ranger Casey. (Female voice two continues) We're coming to you from the Delaware Water Gap National Recreation Area. This park is located in both Pennsylvania and New Jersey, along the Delaware River. The river plays an important role in how we became a National Recreation Area.
(Male voice) A ranger sitting in a canoe in the middle of the river:
(Female voice one) In 1955 back to back hurricanes', Connie and Diane, hit this area and flooded it with over two feet of rain. This devastated local communities and took many lives. Because of this disaster, the US Army Corps of Engineers was tasked with finding a solution so that a flood of this magnitude could never happen again. They proposed building a dam at this location behind me, Tocks Island (Ranger points over right shoulder). (Female voice one continues) The Tocks Island Dam would've built a reservoir that would have been one mile wide and 40 miles long. In order for this project to occur, the government used eminent domain to acquire property from local families and businesses. This forced them to relocated, and understandable made many of them upset. Most of whom would go on to become vocal opponents to the Tock Island Dam project in the years to come.
(Male voice) Ranger walking next to the river:
(Female voice two) However, they were not the only ones upset about the proposed dam. Numerous environmental groups were forming to try to protect this area and to stop the Tocks Island Dam project. They held public protests, letter writing campaigns, and attended government meetings. This captured national attention, which educated and recruited people from outside this area. This was instrumental in delaying and eventually stopping the construction of the Tocks Island Dam. For them, defending the river was more of a calling than a choice.
(Male voice) Ranger standing in front of the river
(Female voice one) (Female ranger points toward the camera with her left hand) Now today, for your write out prompt, we would like you to think about what issues matter to you. Who, or what might you want to stand up for? We'd like you to create a protest poster about an issue that you care about related to protecting public spaces. Be sure to share your work with us using the hashtag #writeout, or send us an email or a postcard. We can't wait to see what you come up with.
Visit our keyboard shortcuts docs for details
Duration:

2 minutes, 37 seconds
Write Out encourages all participants to get outdoors, write, create, reflect, share, and connect with one another on and offline. Delaware Water Gap National Recreation Area is participating in Write Out 2021. Check out our writing challenge video where we challenge you the viewer to a #writeout
Last updated: October 4, 2021