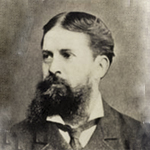 Charles Peirce
Described as America's DaVinci,
Charles Peirce (pronounced purse)
produced ground-breaking work in the world of philosophy with his theory of pragmatism. He made contributions to the disciplines of astronomy, psychology, logic, chemistry, meteorology, and geodesy (mapping the earth's surface).
Some of Peirce's most innovative scientific work
was for the United States Coast and Geodetic Survey (USC&GS), the forerunner of the National Oceanographic and Atmospheric Administration (NOAA). Peirce and his wife Juliette made their home in Milford from 1887 on; the building is now the office of the park's Division of Research & Resource Management.