Park Planning
The National Park Service prepares a variety of planning and environmental documents to help guide the management of park resources. These documents can range from site-specific impact analyses on facility locations to broader park-wide plans for future use and management of the park. Ongoing and recently completed planning projects can be found on the National Park Service
Planning, Environment & Public Comment (PEPC)
website.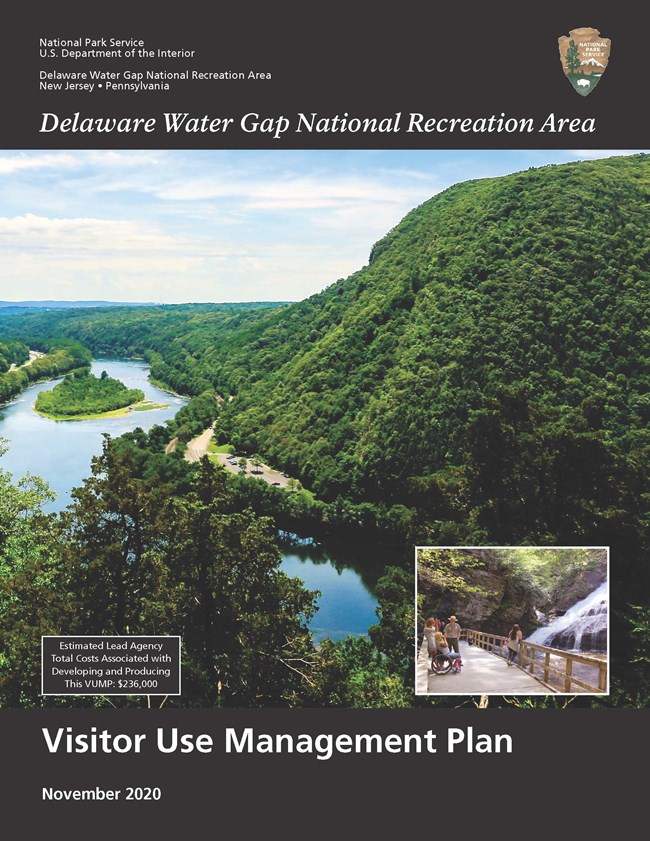 Visitor Use Management Plan 2020
The Visitor Use Management Plan (VUM Plan) for Delaware Water Gap National Recreation Area and Middle Delaware National Scenic and Recreational River outlines adaptive management strategies to protect the park's significant natural and cultural resources while also maximizing public access to high-quality recreational experiences.
The VUM Plan is the culmination of a 5-year planning effort that included a great deal of time, energy, collaboration, research, and input by neighboring town governments, elected officials, partners, communities, stakeholders, researchers, NPS staff, and the public. The park will use this plan as a guide in future decision-making, relying on the science, data, and the strong community voice reflected in it.
Watergate Wetlands Restoration Project
Delaware Water Gap National Recreation Area is restoring natural conditions in and near the Watergate Recreation Site in Hardwick Township, Warren County, New Jersey by removing man-made features such as dams and levees and restoring wetlands, Van Campens Brook, and its floodplain. The project meets a National Park Service requirement to restore wetlands and floodplains equal to the amount that were impacted by the 2013 construction of a nearby high-voltage transmission line (the Susquehanna-Roseland Transmission Line). The Watergate Picnic Area is closed to the public for the duration of construction, and expected to reopen in June 2022.

Foundation Document
The core components of the park's foundation document include a brief description of the park as well as the park's purpose, significance, fundamental resources and values, other important resources and values, and interpretive themes. The foundation document also includes special mandates and administrative commitments, an assessment of planning and data needs that identifies planning issues, planning products to be developed, and the associated studies and data required for park planning. Along with the core components, the assessment provides a focus for park planning activities and establishes a baseline from which planning documents are developed.
Foundation Document summary (2.6 KB)
Foundation Document full document (6.4 KB)
Delaware River Basin National Wild and Scenic River Values
Outstandingly remarkable values (ORVs)
are defined by the Wild and Scenic Rivers Act as the characteristics that make a river worthy of special protection. Thus, the foundation for wild and scenic river management is a clearly defined set of ORVs. Delaware River basin contain the following ORVs: cultural, ecological, geological, recreational, and scenic. A set of broad statements has been developed that articulates each ORV for the collection of all designated segments of the Delaware basin. These narratives capture the overall, combined values of the river system, as protected under the Wild and Scenic Rivers Act.


Last updated: July 14, 2021