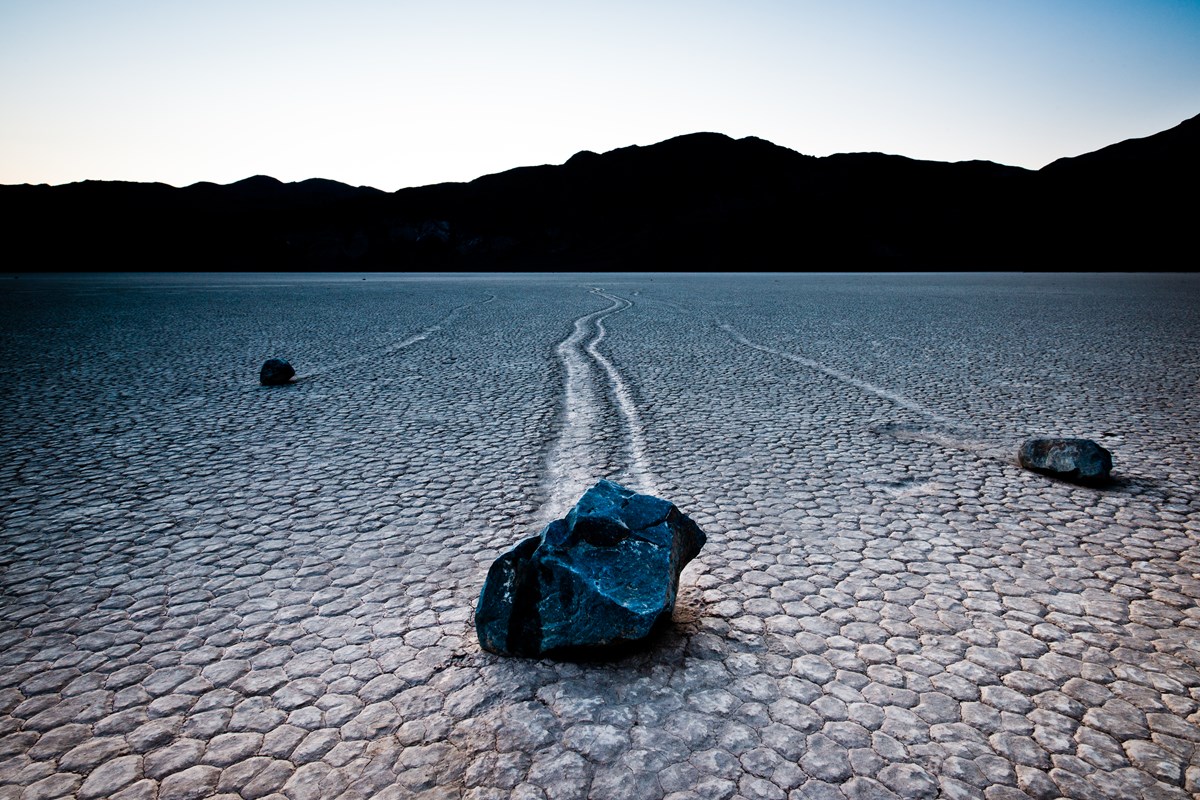 Nestled in a remote valley between the Cottonwood and Last Chance Ranges, the Racetrack is a place of stunning beauty and mystery. The Racetrack is a playa--a dry lakebed--best known for its strange moving rocks.
Caution: Rough and Remote Road
The road to the Racetrack is rough, and good tires, 4x4 and high clearance are usually required. Standard rental vehicles are not recommended, and often get flat tires. Use extreme caution on this road in the summer heat. There is no cell phone coverage in the area. Drive time from Furnace Creek is at least 3.5 hours each way. Other access roads make for even longer and more remote adventures. Driving offroad is strictly prohibited.
The road to Racetrack Valley begins near Ubehebe Crater. Normally, it is recommended for high-clearance vehicles with heavy-duty tires as it can be rough and washboard. Off-road driving is prohibited as the desert is very fragile and vehicle tracks can remain for years. Watch for Joshua trees along the way. Often confused with cactus, Joshua trees actually are a type of yucca that can grow up to 30 feet tall. Twenty miles in you will reach Teakettle Junction. Follow the road straight ahead to the Racetrack playa. The road to the left leads into Hidden Valley and connects with the Hunter Mountain road which usually requires 4- wheel-drive to travel. Two miles further the short spur road to the right leads to the Ubehebe Lead Mine. It operated during the late 1800's and again during World War I.