Sidewinder Canyon
Length:
5 miles (8.4km) out and back, round trip.
Time:
6 hours round trip.
Difficulty:
Moderate
Elevation Gain:
1,580 ft (482m)
Location:
An unmarked gravel access road is located on Badwater Road 31.5 miles south of CA-190 between mile markers 31 & 32. The access road is less than 0.5 miles (0.8km) long and is typically passable to a sedan.
Parking:
Open gravel area large enough for buses and RV's. Same location as Willow Canyon.
Closest Restroom:
No restrooms nearby. Follow
principle 3 of Leave No Trace (LNT)
.
GPS Data:
GPS data for the unmarked route is for supplemental purposes only. Take a map and compass when exploring the trail-less wilderness.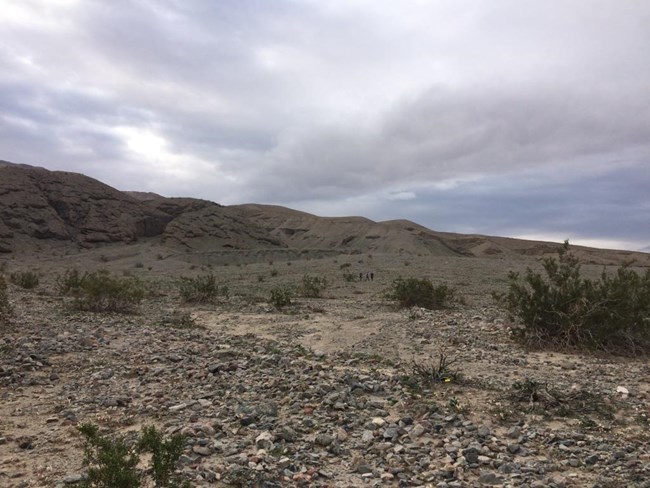 Route Description
Sidewinder Canyon is both physically and mentally a very demanding hike. Climbing over vertical ledges over 6 ft (2m) high and squeezing or crawling into tight spaces 1.5 ft (0.5m) wide is required. There are no signs identifying the parking or the hike. You are entering
designated wilderness
.
Sidewinder Canyon is the large canyon just south of the parking area. Avoid the foothills and narrow canyons just east of the parking area. Instead head uphill directly south around the foothills where it's a left hand turn (east) into Sidewinder Canyon in approximately 1,500 ft (457m).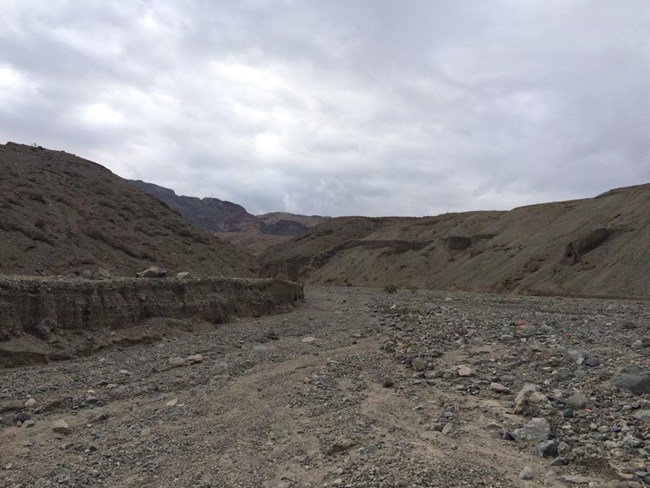 Begin ascending Sidewinder Canyon. The rocky route uphill will pass several narrow side canyon tributaries all offering small opportunities for explorations, however the three slot canyon highlights all run south of the main canyon. The first is 0.6 miles (1km) from the mouth of Sidewinder Canyon.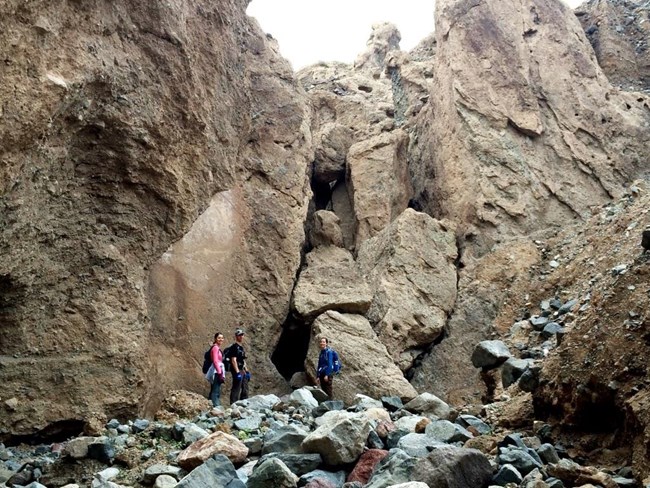 0.6 miles (1km) after entering the main canyon, you will find yourself at a large canyon intersection with a side canyon. The side canyon will be coming from the south (right). Upon closer examination notice that the side canyon branches into two separate drainages. The drainage on the left apprears to be blocked by a large pile of boulders. This is Slot Canyon #1.
Crawl into the crack on the lower left where you'll climb up and over a different boulder not yet visible in the picture to the right. Once over the boulder, you will squeeze through a short tight space (1.5ft/0.5m) wide where it may be necessary to remove your pack. Once through the tight space you will be inside slot #1 where this short yet deep canyon becomes so dark that you'll need a headlamp or flashlight. Return to the main canyon via the same route. Total length of Slot#1 is only 0.10 miles (0.16km).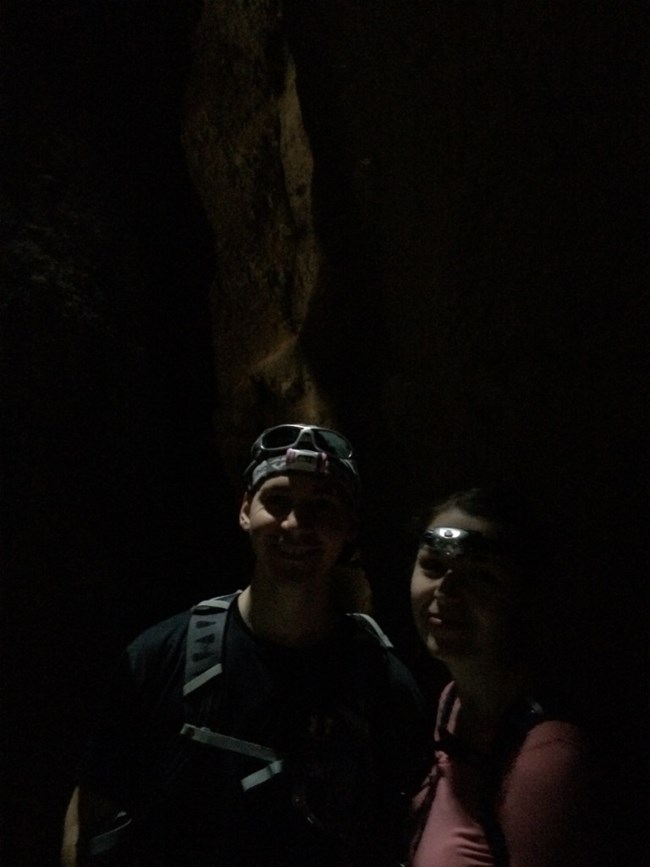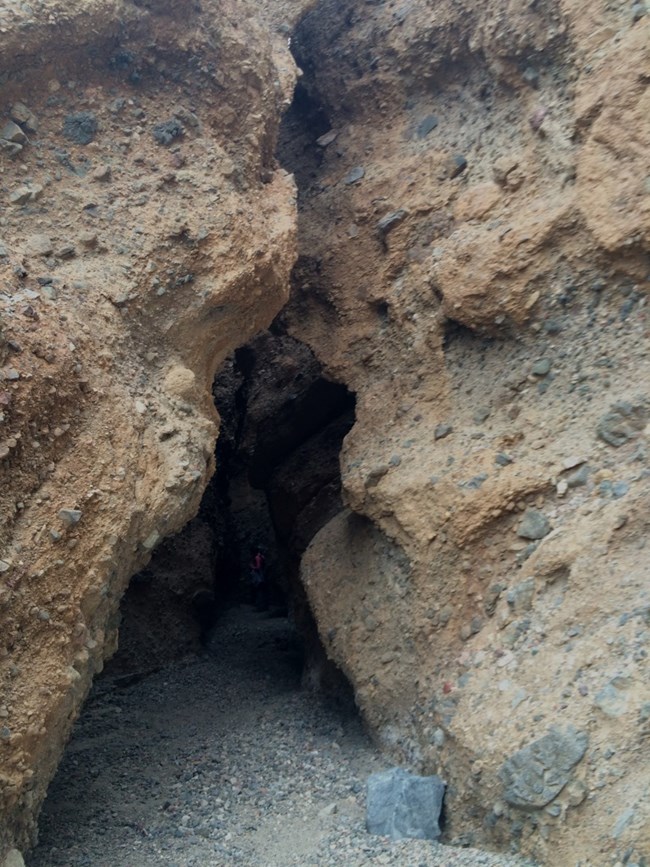 Once you are back at the main canyon, head up canyon for approximately 0.10 miles (0.16km) and look for the second slot canyon. The second slot entrance is directly on the canyon wall. Slot #2 does not have an official end, however most hikers explore the first 0.4 miles (0.64km) where significant climbing over vertical ledges 6 to 8 ft high (2 to 2.5m) is required. Near the end of slot #2 are a couple of large pinnacle formations.
Slot#2 in Sidewinder Canyon requires rock climbing over very rough terrain.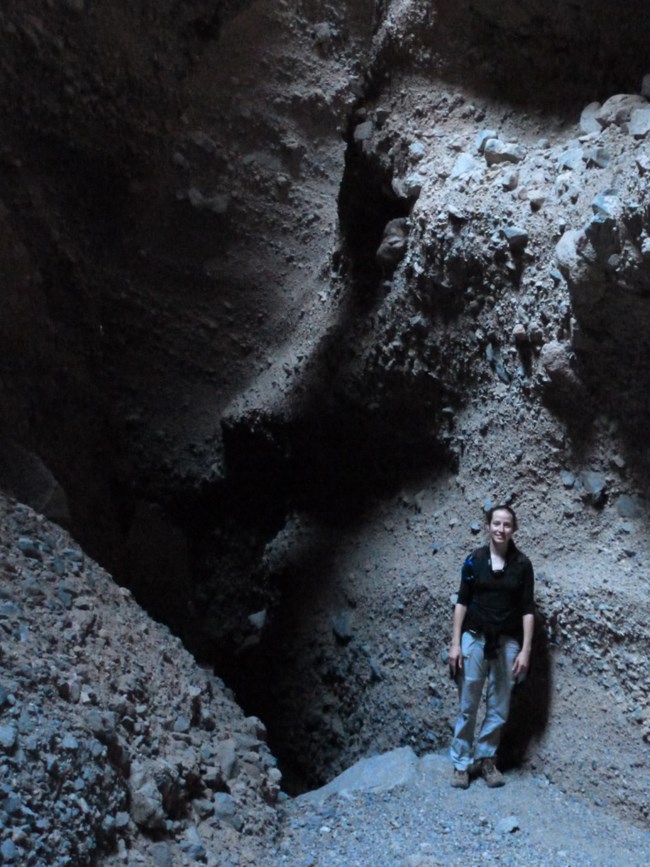 Slot #3. Sidewinder Canyon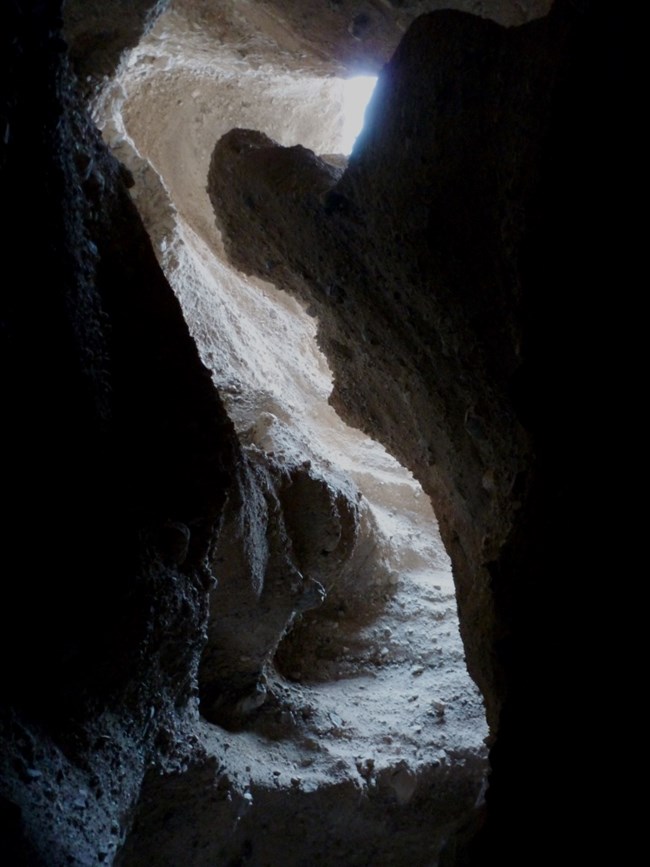 Back at the main canyon continue up another 0.25 miles (0.4km) until reaching the obvious mouth of slot#3 on the south side (right). Exploring slot 3 requires scrambling and crawling over and under various obstacles for 0.25 miles (0.4km). There is no official end. Return via same route.
Last updated: February 23, 2023