Wilderness

Death Valley Wilderness
Death Valley National Park contains the largest wilderness in the contiguous United States (over 3,190,400 acres or roughly 93% of the entire National Park!). Nearly a thousand miles of paved and dirt roads intersect the wilderness, providing ready access to all but the most remote locations. In fact, many of the most popular locations in the park, such as Mesquite Flat Sand Dunes and Badwater Basin are designated wilderness and are accessible by paved road!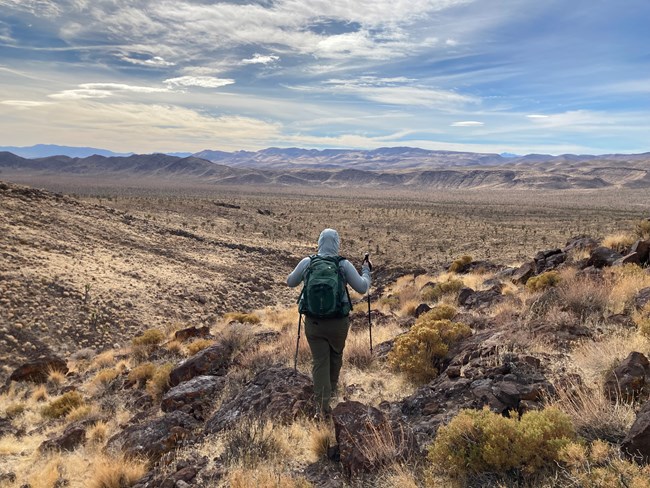 The History of Wilderness
Wilderness, as defined in the Wilderness Act of 1964, is land "protected and managed so as to preserve its natural conditions and which generally appears to have been affected primary by the forces of nature, with the imprint of man's work substantially unnoticeable."
Americans became concerned with the rapid depletion of natural resources during the 19th century, which led to government protection of early national parks such as Yellowstone and Sequoia. These parks were primarily set aside for their scenic qualities.

By the 1930s, however, the complexity and importance of entire ecosystems supporting plant and animal species were being studied. Parks such as Everglades in Florida were set aside to preserve wildlife habitat and the natural processes which supported them. As technologies of the 1950s made it easier for more people to access backcountry locations, the federal government, working with conservation groups, sought ways to expand protection of the nation's ever-decreasing wilderness lands. These efforts culminated in the passing of The Wilderness Act of 1964. The language of this bill makes plain the goals inherent in the law:

"In order to assure that an increasing population, accompanied by expanding settlement and growing mechanization, does not occupy and modify all areas within the United States and its possessions, leaving no lands designated for preservation and protection in their natural condition, it is hereby declared to be the policy of the Congress to secure for the American people of present and future generations the benefits of an enduring resource of wilderness."

Today, there are more than 109 million acres of federally protected Wilderness in 44 states. Although this may seem like a huge area, it is only about 5% of the land in the United States. Check out the maps on Wilderness Connect to see the extent of wilderness in Death Valley National Park or to find a wilderness area near you.

Why is Wilderness Important?
The benefits of Wilderness have been cited for centuries. William Shakespeare noted that "one touch of nature makes all the world kin." Nineteenth century American philosopher Henry David Thoreau intoned, "in wilderness is the preservation of the world.", while naturalist John Muir wrote, "brought into right relationships with the wilderness, man would see that his appropriation of Earth's resources beyond his personal needs would only bring imbalance and begat ultimate loss and poverty by all."
Wilderness has been associated with godliness, beauty, freedom, health and American virtues. Unhindered by humans, natural processes provide us all with clean air, soil and water. Large expanses of undisturbed habitat are important to the survival of numerous plant and animal species and provide an ecological baseline with which to understand the impact of humans on nature.

Wilderness areas provide beauty, solitude and inspiration as well as opportunities for discovery, hiking, camping and wildlife viewing. Many important historic and cultural sites and artifacts are protected from disturbance in wilderness locations. Economic benefits are also inherent in wilderness as it enhances surrounding private land values and brings tourism to local communities.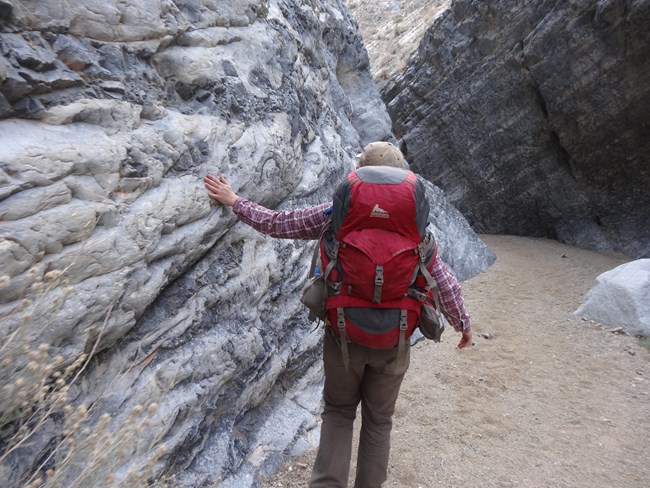 How to Explore Death Valley Wilderness
Wilderness means many things to many people. Some consider a trip into the park's remote and undeveloped backcountry the only way to seek wilderness, while others may find a picnic on the dunes at Mesquite Flats to be the perfect way to enjoy wilderness. What is your ideal wilderness experience? Check out these resources to help plan your next wilderness adventure: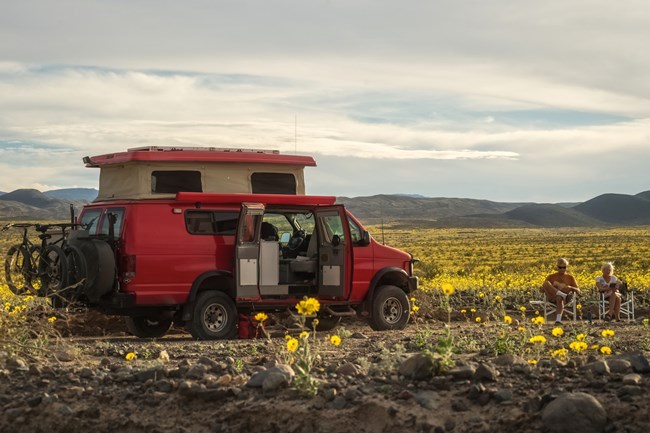 Although there are few maintained trails, the well prepared traveler will find a lifetime's worth of exploring in Death Valley National Park. Even a short walk away from the road will immerse you in the solitude and silence that defines the Death Valley wilderness experience. If you're planning a longer trip, be sure to tell someone outside the park where you're going and fill out a free Wilderness/Backcountry Permit.
What Degrades Wilderness?
Wilderness is preserved for all of us, however there are many things which can harm wilderness and detract from our enjoyment of this valuable resource. Click on the tiles below to learn about some of the biggest threats to Death Valley Wilderness.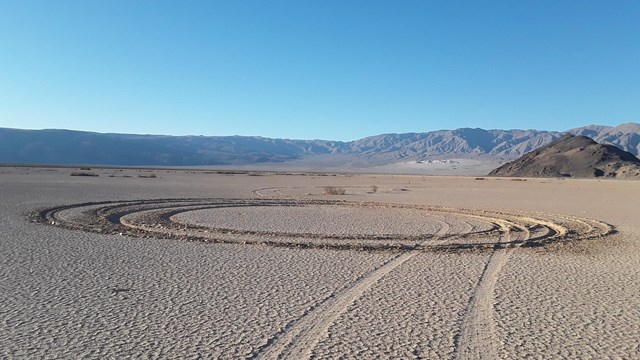 Off Road Driving
Just a few minutes of off road driving can leave scars which last decades.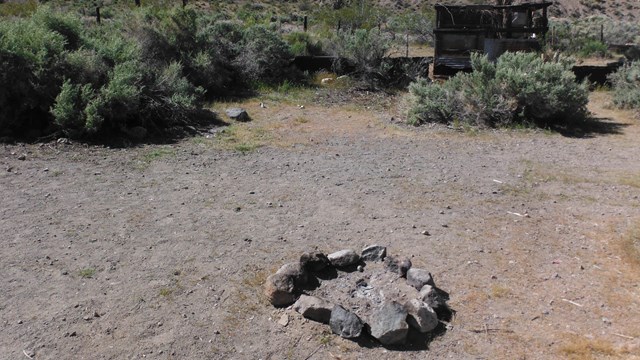 Prohibited Activity
Illegal fire rings, drones, graffiti, pets and trash can take away from wilderness.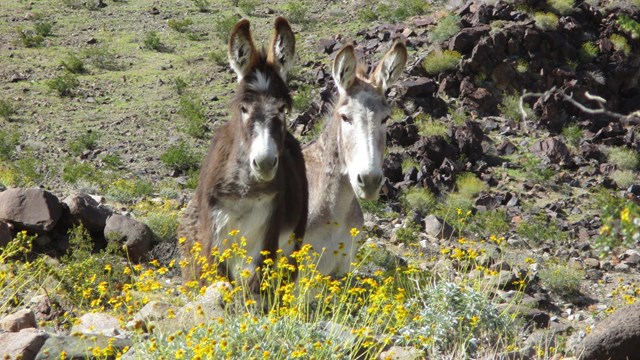 Non-native Species
Some plant and animal species not naturally found in Death Valley are having negative impacts on native species.
Last updated: July 12, 2022