Desolation Canyon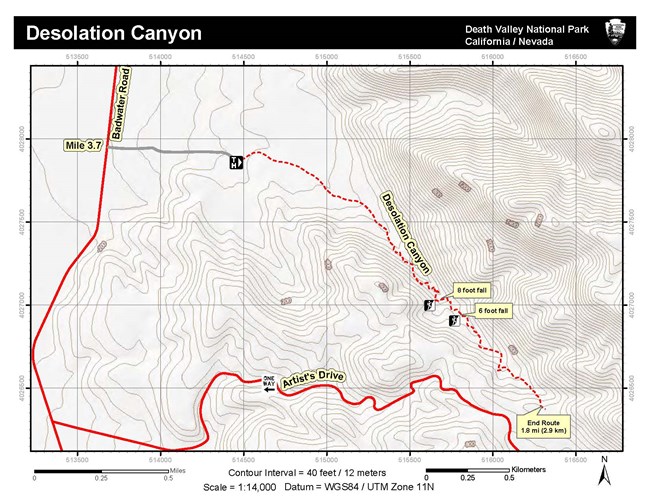 Length:
3.6 mile (5.8km) out and back, round trip
Time:
2.5 hours round trip
Difficulty:
Moderate to Difficult
Elevation Gain:
600 ft (183m)
Location:
The short unpaved Desolation Canyon Road is located 3.7 miles (6km) south of CA-190 on Badwater Road. Typically passable to sedans.
Parking:
Open gravel parking area large enough for buses and RV's.
Closest Restroom:
No restroom at site. Golden Canyon parking lot 1.7 miles (2.7km) north has a vault toilet in the parking lot.
GPS Data:
GPS data for the unmarked route is for supplemental purposes only. Take a map and compass when exploring the trail-less wilderness.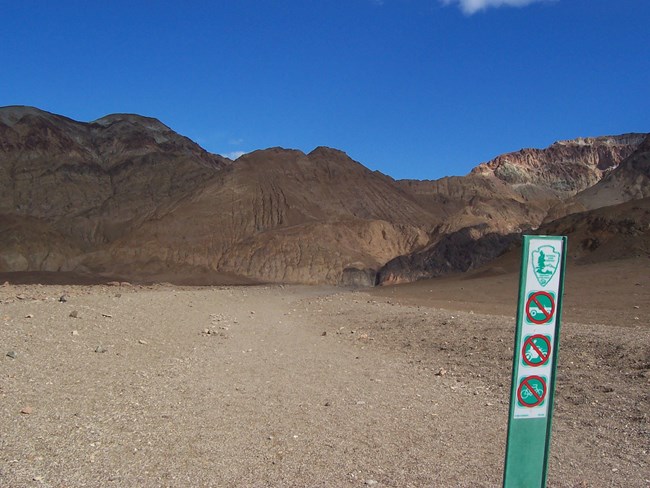 Route Description
From the parking area there are two obvious canyon drainages. Avoid the small canyon to the south; instead begin hiking east toward the Black Mountains. You are entering
designated wilderness
.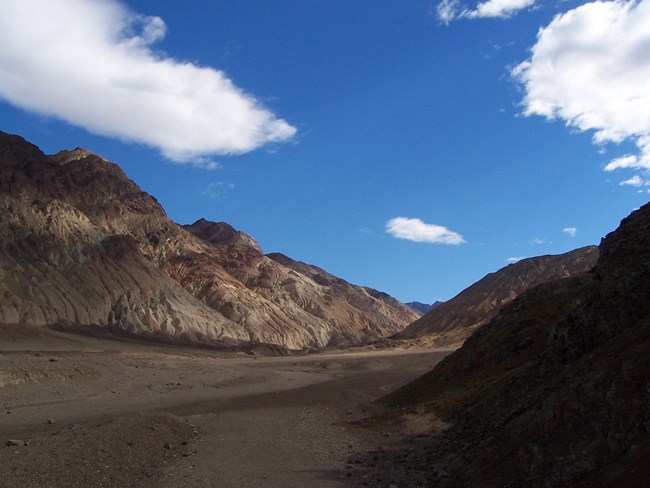 Rounding the corner, the canyon begins to take shape. Head south, hugging the mountains on the left as you follow the wash farther into the Black Mountains.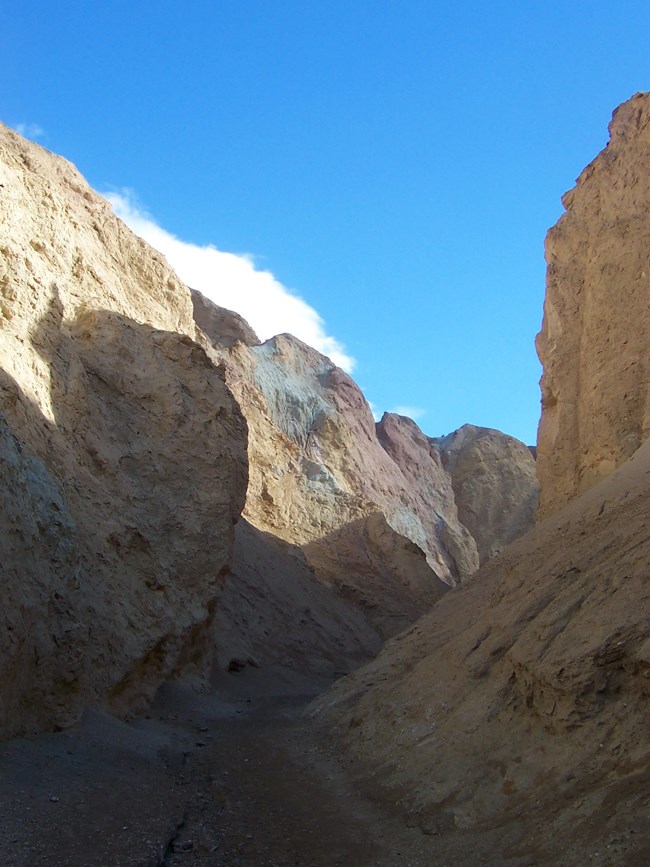 Entering the canyon, the colorful walls quickly grow high above as the wineglass shaped canyon begins to take shape and constrict around you.
Venturing gradually uphill through the corridor of the main canyon, many interesting but short side canyons offer opportunities for exploration. The maze of canyons provides hours of possibilities for adventure, but may also become confusing.
Hint:
This canyon has been shaped by flowing water,
generally
downhill is the way back to safety.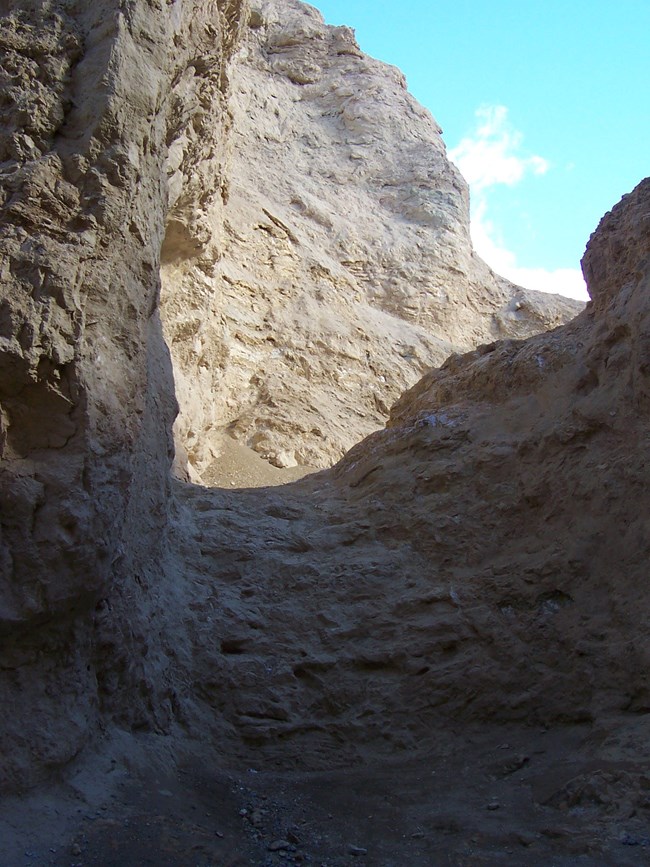 One mile into the main canyon, you encounter an 8ft (2.4m) followed soon after by a 6ft (1.8m) high dryfall. Climbing up may seem easy, but proceed with caution, especially when hiking alone. Climbing back down is always more difficult.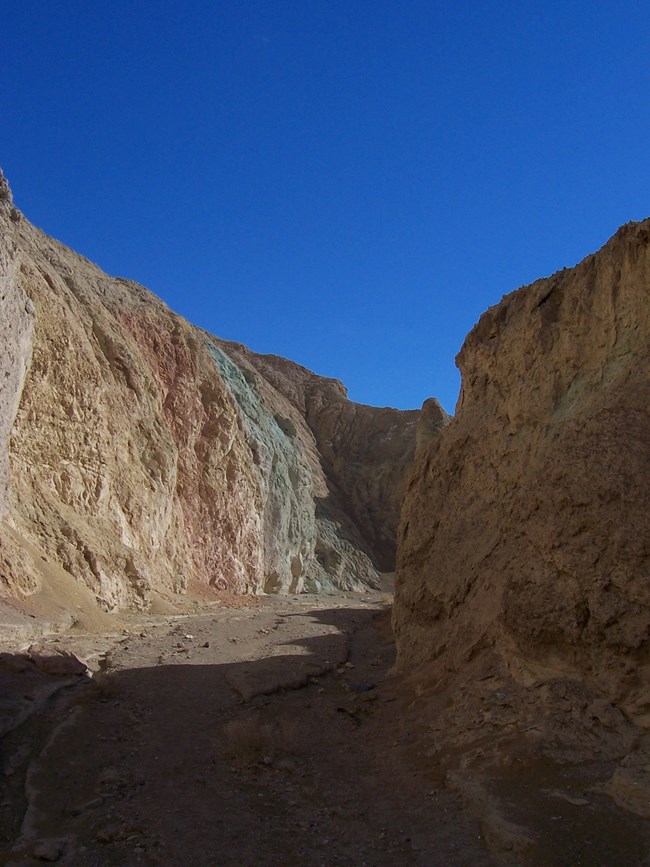 The remainder of the hike shares many features of its neighbor Artist's Drive. Colorful walls and unique geological formations define the horizon.
Be sure to keep right at the next two canyon intersections before following the gradual route up to the ridgeline for the expansive view of Death Valley over 600ft (183m) below. Artist's Drive is the paved road below you. Return via the same route.
Rock Rainbow:
Shades of color are due to a mix of minerals, mostly forms of iron.
Red/Orange = Hematite
Yellow = Limonite
Green/Blue = Chlorite, Nontronite
Purple = Hematite
Common Flora:
Desert Holly (Altriplex hymenelytra)
Rock Nettle (Eucnide urens)
Last updated: January 13, 2018