Cottonwood Marble Loop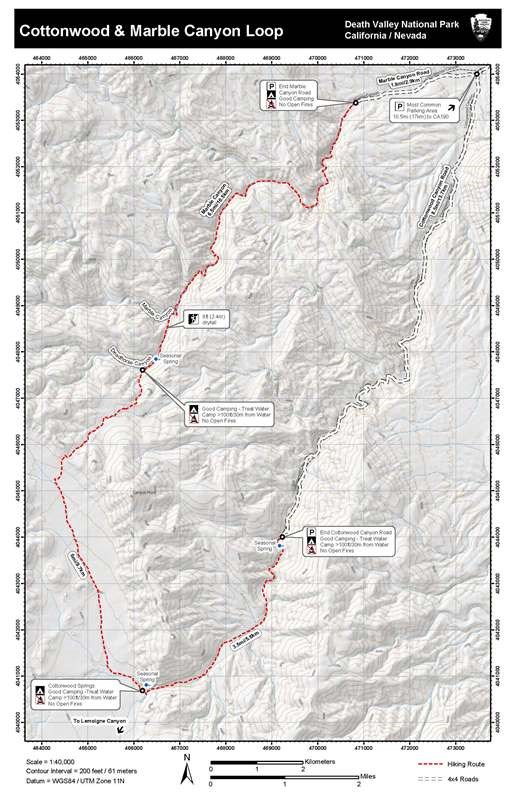 Length:
26 to 28 miles (42-45km) loop route.
Time:
2 to 3 nights
Difficulty:
Difficult. 4x4 access, route finding, no signs.
Elevation Gain:
3,882 ft (1,183m)
Location:
From CA-190 Enter Stovepipe Wells Campground. Turn left on the Cottonwood Marble Road marked by a sign for the airport. Check conditions prior to travel.
Cottonwood Marble Road: 10.5mi (17km). The first 8 miles (13km) is typically passable to a high clearance vehicle. After the 8 mile point, the road drops steeply into a deep wash where 4x4 is required due to pockets of deep gravel and small boulders for the next 2.1mi (3.4km) to the junction with Marble Canyon Road.
Cottonwood Canyon Road: The 8.5mi (13.7km) road requires a 4x4 vehicle due to deep sand, rocky washes, tight corners, and small boulders.
Marble Canyon Road: The 1.8mi (2.9km) road requires a 4x4, high clearance vehicle due to small boulders and tight corners through the rocky wash. Great spot to cache water if you are willing to drive a little extra.
GPS Data:
GPS data for the unmarked route is for supplemental purposes only. Take a map and compass when exploring the trail-less wilderness.
GPX file: (universal format for use in most mobile applications and GPS units).
KML file: (used with some mobile applications and Google Earth & Maps).
Regulations:
Group Size: Limited to 12 individuals, 8 pack animals, and 4 vehicles. Groups larger than 12 must split up into smaller groups and must camp, hike, and eat at least a half-mile apart.
Camping: Mandatory free permit required for both roadside and backcountry camping. Camping is prohibited within 100ft/30m (100 yards for pack animals) of all water sources. Please practice Leave No Trace principles. Camp in a pre-disturbed area.
Fires: Open fires are strictly prohibited for resource protection. Portable gas burning stoves are allowed.
Waste: Human waste must be packed out or buried (cat holed) at least 400 feet (about 150 adult steps) from water, trails and camp. Select an inconspicuous site where other people will be unlikely to walk or camp. Dig a hole 6-8 inches deep and cover it up when done.
Permits: Backcountry permits are required and available at visitor contact stations. The information on the permits greatly improves the safety of park visitors while enabling the park to gather valuable visitation information.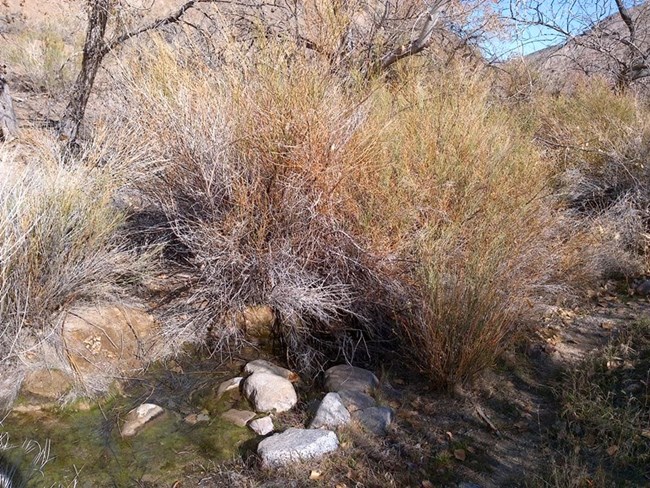 Water Sources: Check conditions prior to your trip. Water sources are seasonal and subject to change at any time. Springs are usually reliable between from December through March. Filter or treat all water.
Cottonwood Canyon: Seasonal. Running water is typically visible at the end the Cottonwood Canyon Road (469127E, 4043912N) with additional periodic access locations as you hike up the canyon.
Cottonwood Springs: Seasonal. The most reliable source (466273E, 4040786N). Stock up here, this could be the last water source for your trip.
Deadhorse Canyon: Seasonal. Known to dry up first. (466486E, 4047804N).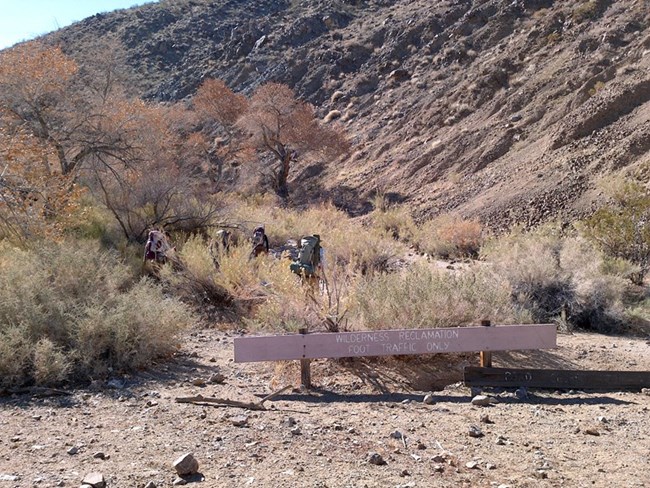 Cottonwood/Marble Junction -> Cottonwood Canyon Rd End:
8.5mi (13.7km)
The rough but scenic road makes for a great hike as it starts out as a flat, easy to follow route before winding through deep canyons framed by dramatic cliffs. The road ends within a grove of cottonwood trees with great camping near the first seasonal water source. Camp at least 100ft/30m (100 yards for pack animals) from all water sources.
Last updated: December 13, 2022