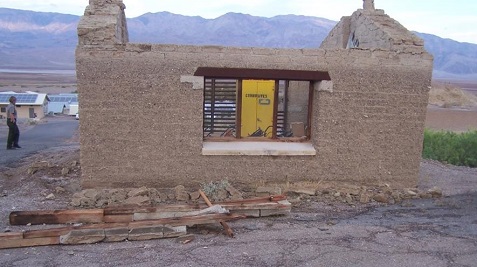 News Release Date:
April 28, 2016
Contact: Abby Wines, 760-786-3221
DEATH VALLEY, CA –Winds up to 42 miles per hour damaged three historic structures in Death Valley National Park on the afternoon of April 27.
All three structures were built in the 1930s by the Civilian Conservation Corps, a Great Depression-era work program. Wind blew the entire roof off an adobe-wall building in Cow Creek maintenance yard. Also in Cow Creek Historic District, wind damaged the roof of the original superintendent's garage. Emigrant Ranger Station, located 8 miles west of Stovepipe Wells on CA-190, also had significant roof damage.
Furnace Creek received 0.3 inches of rain the night of April 27. Park road crews cleared minor flood debris off park roads on April 28, but did not need to close roads.