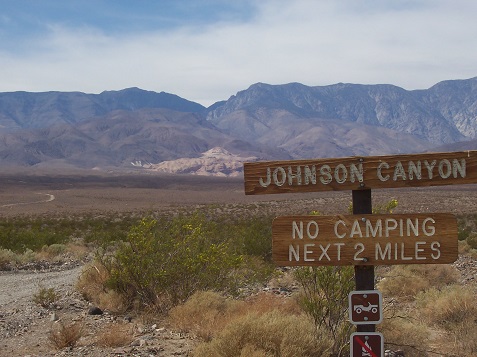 News Release Date:
December 18, 2015
Contact: Abby Wines, 760-786-3221
Contact: Linda Slater, 760-786-3279
National Park Service road crews have finished repairing West Side Road and opened it in time for an anticipated surge in visitation to Death Valley National Park over the holidays.
Hundreds of miles of park roads were closed after a series of flash floods in October. In the center of the park, Furnace Creek had the wettest October on record, at 1.3 inches. Other areas of the park received even higher amounts of precipitation. Over three inches of rain and hail fell in five hours in Grapevine Canyon, creating a 3,000 cubic feet per second flash flood that damaged utilities and three historic structures at Scotty's Castle.
October's flash floods are the most expensive natural disaster in park history, with total damage estimates in the tens of millions of dollars. Funding has been secured via Federal Highways Administration to repair park-maintained roads.
West Side Road is a 40-mile-long graded road that parallels Badwater Road on the west side of Death Valley and is passable by two-wheel-drive vehicles. West Side Road provides access to multiple high-clearance four-wheel-drive roads, including Hanaupah Canyon, Johnson Canyon, and Warm Springs Canyon. Warm Springs Canyon Road provides a route into remote Butte Valley and the rugged Mengel Pass.
Park visitation lulled in early December, which fits the normal pattern of past years. Few people travel between Thanksgiving and Christmas. However, park rangers expect visitation to be high over the winter holidays, as it was over Thanksgiving weekend. 83,000 people visited Death Valley in December 2014, with visitation heavily skewed toward the last two weeks. Total visitation to Death Valley National Park in 2014 was 1,101,000 people. As of the end of October, the most recent data available, Death Valley has received 1,013,000 visitors in 2015.
To get the most up-to-date information on road conditions, visit Death Valley's website at nps.gov/deva, or follow us on www.facebook.com/DeathValleyRoadConditions.