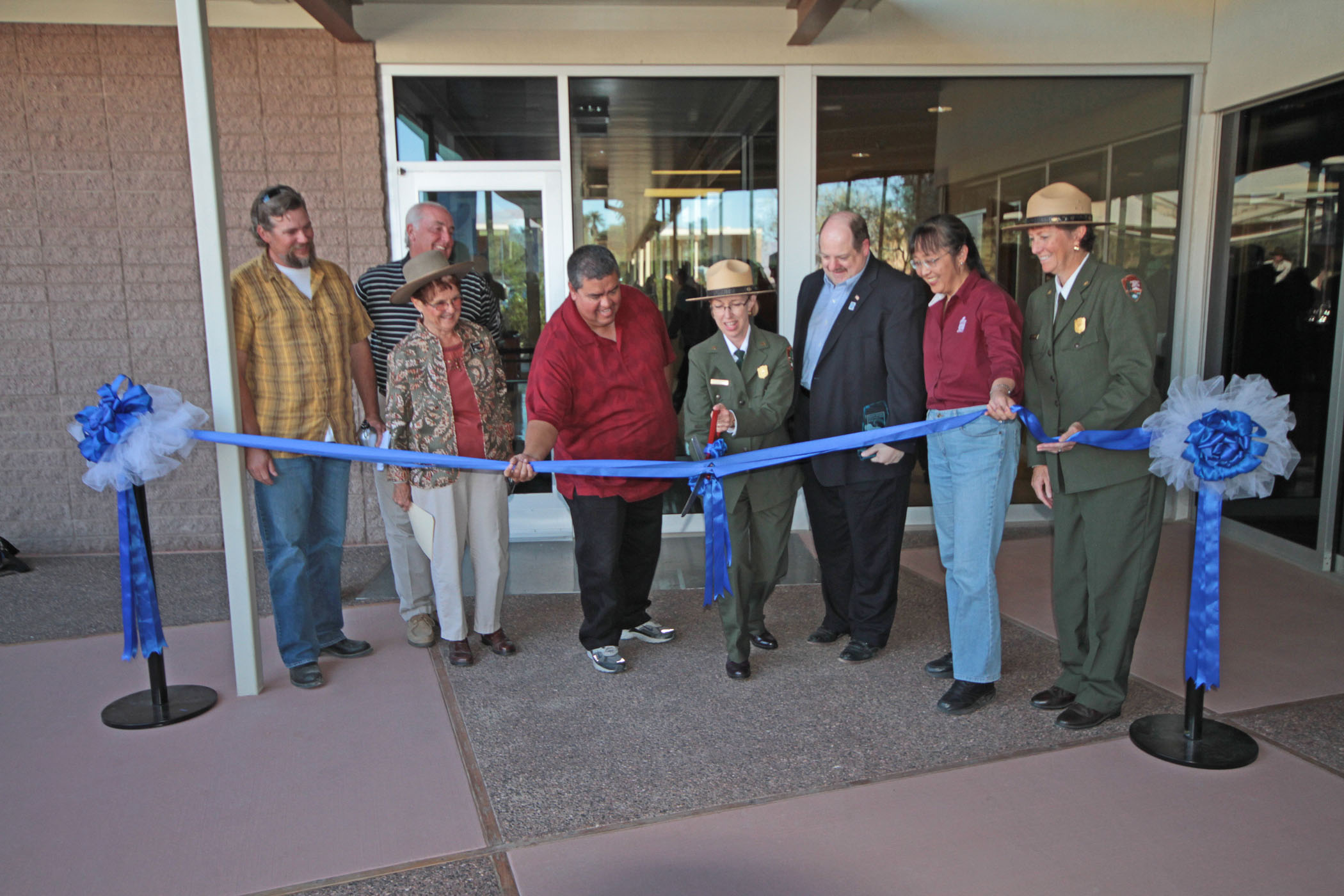 News Release Date:
November 5, 2012
Hundreds of park visitors took part in events to celebrate the remodeling of the Death Valley National Park Furnace Creek Visitor Center on November 3-4, 2012. The historic Mission 66 Museum, with original exhibits dating back to the 1960s, was due for a facelift. New exhibits feature the dark night sky, mining history, geologic features, and artifacts of the Timbisha Shoshone Tribe, whose Tribal Homeland is within the park boundaries.
Partners of Death Valley National Park were present for the ribbon cutting ceremony on Sunday and each gave a brief history of their relationship with the park. Other weekend events included demonstrations by the US Borax Twenty Mule Team. Such teams were used in the late 1800s to transport the mineral borax from pre-park mining operations to markets in southern California. Employees of the company in the early part of the century include NPS founders Stephen Mather and Horace Albright, the latter being the first Superintendent of Death Valley National Park.
Park staff conducted "behind the scenes" tours to give visitors an idea of before and after the renovation. The Visitor Center, with its new efficient infrastructure, will receiveLEED Certification. New efficiencies include new insulation and double-pane windows, an energy efficient HVAC system, night sky friendly external lighting with timer and motion controls, and native desert plant landscaping. Photovoltaic (PV) systems were installed in the parking lot and behind the Visitor Center. Together, these PV systems, in conjunction with the other energy efficient measures are expected to bring the Park's $40,000+ energy bill closer to $14,000 or less.
Living history programs included Women Miners in Death Valley and the History of the Civilian Conservation Corps. Keeter Stuart, the nephew of 1940s Death Valley ranger and singer/songwriter Stan Jones, performed the song made famous by his uncle, "Ghost Riders in the Sky" for a full auditorium Saturday Night.
For more photos go to https://www.flickr.com/photos/deathvalleynp/sets/72157631938882212/.
-NPS-