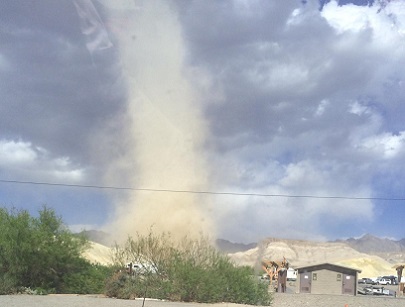 News Release Date:
March 28, 2016
Contact: Abby Wines, 760-786-3221
DEATH VALLEY, CA –A dust devil tore through Texas Springs Campground on the afternoon of Monday, March 28, causing property damage and one injury.
Wind flipped a pop-up camp trailer, which fortunately was not occupied at the time. Windows in several vehicles were broken. Multiple tents were either destroyed or blown away. A volunteer campground host at nearby Sunset Campground reported seeing a tent traveling eastbound approximately 1,500 feet in the air.
The only known injury was sustained by a man whose head was cut by a flapping portion of his tent as it was being pulled away in the wind. National Park Service rangers stabilized his injures and transported him to a hospital for treatment.
The National Weather Service had issued a high wind warning for the day, predicting gusts up to 60 miles per hour in Death Valley National Park.
CORRECTION:
The injured man was inside his tent when the dust devil hit. He stated that the wind picked him and the tent up and his head was injured when he was dropped back down.