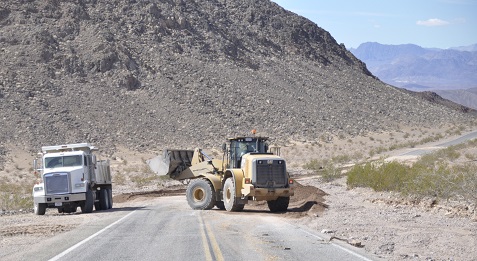 News Release Date:
December 14, 2015
Contact: Abby Wines, 760-786-3221
Fifty miles of roads in Death Valley National Park reopened to the public last weekend that had been closed due to flash floods since October. The National Park Service also made progress in recovering from flood damage at Scotty's Castle. Significant work remains to be done in several areas of Death Valley National Park.
About 500,000 tons of flood debris have been moved off of park roads, including Badwater and Harry Wade Roads. Crews also repaired sharp drop-offs in road shoulders. Seventeen miles of Badwater Road had already been cleared and opened to the public several weeks ago. Thirty more miles of Badwater Road and the 26-mile unpaved Harry Wade Road opened on Saturday, December 12. Visitors may now drive 47 miles on the paved Badwater Road from Furnace Creek past Badwater Basin to Ashford Mill on a paved road. Harry Wade Road is a graded unpaved road that reopened on Saturday as well, providing access to the southern end of Death Valley National Park.
The reopened roads provide access to visitor attractions such as Ashford Mill and Saratoga Springs and to popular hikes such as Willow Creek and Sidewinder Canyon.
Badwater Road / California 178 from Ashford Mill to Shoshone, California remains closed. Pavement and road base were washed away in multiple locations near Jubilee Pass. Funding has been secured through Federal Highways Administration to repair the remaining part of Badwater Road. This section of road work will be done by contractors and will hopefully be completed by late spring.
Road crews have shifted to repairing West Side Road and Warm Springs Road, which a goal of opening them within a few weeks.
Most of the park is open to the public, including Badwater, Artists Drive, Furnace Creek, Dantes View, Zabriskie Point, Stovepipe Wells, Mesquite Flat Sand Dunes, Golden Canyon, Mosaic Canyon, Wildrose Charcoal Kilns, Ubehebe Crater and the Racetrack.
257 National Park Service employees from 26 parks have assisted with the flood recovery effort since early October. A series of severe storms in the first two weeks of October caused flash flood damage in multiple areas of Death Valley National Park. This will be the costliest natural disaster in the history of the park.
The historic district at Scotty's Castle was severely damaged by the storm on October 18th, when over three inches of rain fell in just five hours in Grapevine Canyon, resulting in a 3,000 cubic feet per second flood that ripped out utilities, deposited thick layers of mud in the visitor center and Hacienda office building. Over the past 8 weeks, crews have removed the mud that filled the historic swimming pool, removed up to 4 feet of mud from the interiors of three historic buildings, and cleared flood debris 4 feet thick from vast areas of the historic grounds. A lot of work remains before the museum collection can be properly cared for at the site and Scotty's Castle will be reopened to the public.
To get the most up-to-date information on road conditions, visit Death Valley's website at nps.gov/deva, or follow us on www.facebook.com/DeathValleyRoadConditions/ and Twitter.