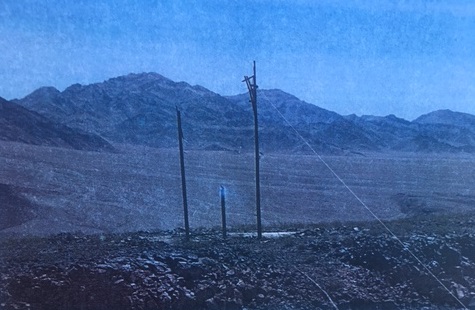 News Release Date:
July 7, 2016
Contact: Abby Wines, 760-786-3221
DEATH VALLEY, CA –Most of Death Valley National Park will be without electricity on Saturday, July 9 from 6:00am until 6:00pm. Visitor and employee safety is a concern because temperatures are forecasted to reach 116 °F.
Southern California Edison will need to turn off the power to finalize repairs of damage caused by a storm and flash flood on July 1. All park hotels will remain open during this power outage, but travelers might have more limited options for food.
A thunderstorm on July 1 damaged a three-pole complex, which cut electrical supply to Furnace Creek and Stovepipe Wells in Death Valley. After 38 hours, Southern California Edison was able to temporarily restore power by repairing one of the three poles. The repairs on July 9 will be a more permanent fix, reducing the likelihood that a future storm will knock out power in the same location.
The National Park Service has been assessing damage and making repairs from back-to-back storms on June 30 and July 1. Fortunately no new damage happened to the historic buildings at Scotty's Castle. Scotty's Castle is closed since October pending about $26 million in repairs, and should reopen in 2019. The Jubilee Pass section of Badwater Road has also been closed since October. Contractors are repairing it currently. It also did not receive significant new damage, and the through route to CA-178 and Shoshone should be open by early August.
Beatty Cutoff Road reopened yesterday after debris was moved off of it. Death Valley National Park has been assisted by road crews from Lake Mead National Recreation Area and Sequoia National Park so far. Further assistance is likely from other parks. The following roads are closed until repairs can be made: North Highway (Scotty's Castle Road) from CA-190 to Grapevine, Ubehebe Crater Road, Big Pine-Death Valley Road, Titus Canyon Road, Mustard Canyon, Salt Creek, and Saline Valley Bat Road (to Saline Valley Warm Springs).
Visitation in summer remains high, as travelers hope to experience the park's temperature extremes. Death Valley holds the world record for the hottest temperature ever recorded, 134 degrees F, set on July 10, 1913. As we approach the anniversary date, rangers recommend that visitors tour by car rather than hiking and carry plenty of water. Visit www.nps.gov/deva for more tips on summer visits.