Jubilee Pass Jubilation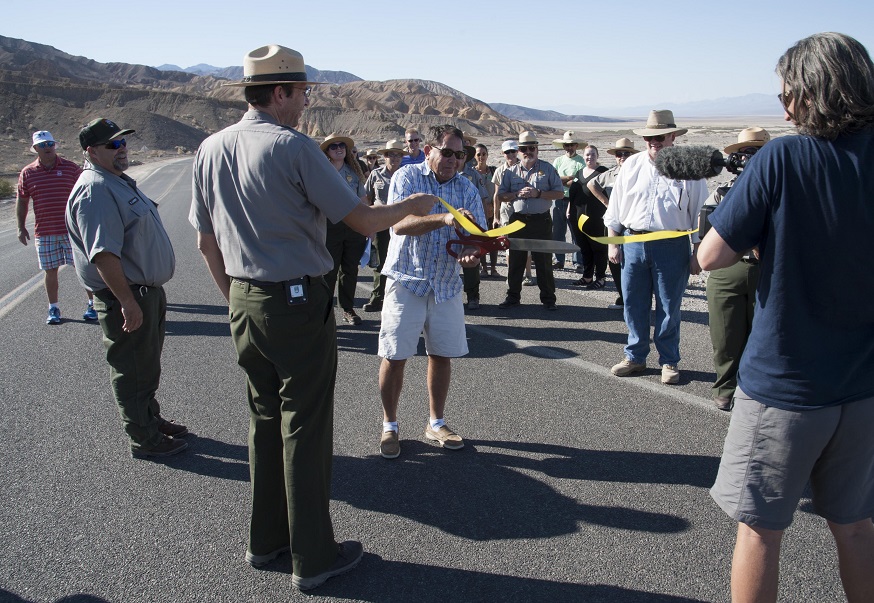 News Release Date:
August 15, 2016
Contact: Abby Wines, 760-786-3221
DEATH VALLEY, CA –About 40 people gathered near the Furnace Creek Inn on Friday, August 12 to celebrate the reopening of the Badwater Road. Jubilee Pass was the last section of Badwater Road to reopen, reconnecting Shoshone, California to Death Valley National Park.
The celebration began with a welcome from Mike Reynolds, superintendent of Death Valley National Park. He joked, "We will start off with a two and a half hour PowerPoint . . ." Even at 8:30 in the morning, temperatures were 95 °F, so the event was kept brief.
Reynolds stressed the importance of Badwater Road to the gateway community of Shoshone, Inyo County, and to park visitors. He described visitors' frustration—especially during this past spring's wildflower superbloom—with encountering the closed road. He thanked Federal Highway Administration for their funding, design work, and project management.
According to Reynolds, Federal Highway Administration funded about $2 million for repairs along all of Badwater Road, including the Jubilee Pass section. Several severe storms in October 2015 caused widespread flash floods in Death Valley National Park. Current estimates of the total cost of recovering from these storms is over $31 million. Repairs at Scotty's Castle are likely to take until 2019.
Badwater Road, like all of Death Valley National Park's roads, is susceptible to damage by flash floods. At one point last October, over 1,000 miles of road in the park were closed due to flood damage. Sections of roads that cross or travel in washes are especially vulnerable. Last October's storm removed a total of about a half-mile of pavement and underlying road base over a span of 10 miles in the wash near Jubilee Pass.
Park Ranger Carrie Jordan gave a talk about the road's history. A miner named Chester Pray started building the road in 1913 to transport mining ore out of southern Death Valley to the Tonopah and Tidewater Railroad. One morning Pray was found dead just outside the construction camp. His death was ruled a suicide, but to this day some people question if it was murder. Construction had just reached the summit of Badwater Road's western pass, which became known as Suicide Pass. Today it is known by the much more pleasant name, Jubilee Pass.
Construction continued under the direction of Pray's business partner, Jack Salsberry. The eastern pass on Badwater Road bears his name to this day. The ten-man crew took six months to construct a 40-mile-long road over two passes. They worked in the summer, just like this year's crew did repairing Jubilee Pass.
T.R. Goodwin, first superintendent of Death Valley National Monument, wrote in 1934, "the road on the West side is complete via Ashford Mill to the Park Boundary and Jubilee Pass is now being used by a large percentage of our visitors. It is actually better travelling than the State Highway via Death Valley Junction, and not enough longer to make any difference in the running time." Civilian Conservation Corps crews soon upgraded the road by oiling it.
August 12's "Jubilee Pass Jubilation" concluded with a ceremonial ribbon-cutting by NPS and Furnace Creek Resort staff and Inyo County District 5 Supervisor, Matt Kingsley.Then park visitors and National Park Service and Furnace Creek Resort staff enjoyed juice and doughnuts provided by Death Valley Natural History Association.
Last updated: August 15, 2016