Hottest Place on Earth Has Record-Breaking Hot June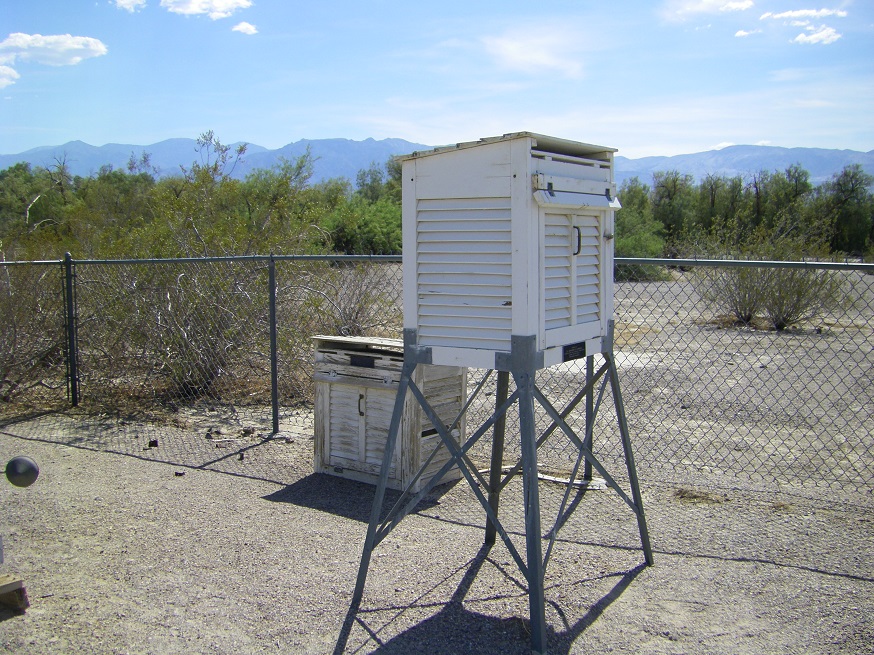 News Release Date:
July 4, 2016
Contact: Abby Wines, 760-786-3221
DEATH VALLEY, CA –Last month was the hottest June on record in Death Valley National Park, with a sweltering average temperature of 101.9 °F. June 2016's temperatures exceeded average June temperatures by about 6 °F.
Death Valley's average temperature in June 2016 was 101.9 °F, which greatly exceeded the average of 95.5 °F recorded over the past 105 years. Official weather observations recorded at Furnace Creek since 1911.
Superintendent Mike Reynolds said, "We're not even in the hottest part of the summer yet. Who knows what July and August will bring."
"The average temperature sounds hot enough, but when you break it down you can really understand the extreme summer conditions in Death Valley. People expect a desert to cool down at night, but the night of June 21st only cooled down to 101 °F," Reynolds said.
Death Valley holds the record for highest officially recorded temperature on the planet: 134 °F on July 10, 1913.
Another way to look at summer temperatures in Death Valley is to count the number of days that temperatures reach or exceed a certain threshold. Death Valley reaches a daily high of at least 90 °F on an average of 190 days—about half the year. Death Valley's daily high is at least 100 °F an average of 140 days annually, at least 110 °F an average of 89 days per year, above 120 °F an average of 18 days per year, and at least 125 °F an average of 3 days per year. So far this summer, Death Valley has already reached 120 °F on eight days.
Superintendent Reynolds discussed the surprising fact that heat doesn't keep visitors away from Death Valley National Park. "Death Valley National Park receives more summer visitation than you might expect. August is the park's third busiest month, behind only March and April. Many of these visitors are from other countries and they come here to experience our world-famous extreme temperatures. I respect those visitors. Think about it . . . summer is the time to experience the thing that makes Death Valley different from any other place on Earth."
Reynolds emphasized safe summer travel tips: "We advise park visitors to drive on paved roads and not to walk very far in the summer. Cell phones don't work in most of the park, and being stranded in high temperatures can quickly turn life-threatening. A few weeks ago a German motorcycle rider died on the unpaved Harry Wade Road. If he had been on a well-travelled road, other park visitors would have seen him and taken him into their car to cool off. That probably would have saved his life."
Other tips are to wear a hat, light-colored loose fitting clothing, and to drink plenty of water. Humidity in Death Valley is usually very low, often below 10%. "People don't realize how much they're sweating," Reynolds said. "Bring at least one gallon of water per person per day –and drink it!"
While most visitors come to see famous low elevation sites like Badwater (282 feet below sea level), some of the best areas of the park to visit in summer are at high elevations. Hikes to Wildrose Peak (elevation 9,064 feet) and Telescope Peak (elevation 11,049 feet) are best done in warmer months when they are not covered in snow. High overnight temperatures make sleeping at Furnace Creek Campground unbearable for most people in summer, but temperatures at Wildrose Campground (elevation 4,100 feet) and Mahogany Flat Campground (elevation 8,200 feet) are quite comfortable.
Death Valley's average daily high temperature this June was 115.5 °F and the average overnight low was 88.2 °F. In spite of a record-setting average temperature, Death Valley only set a new daily record one day last month, with 126 °F recorded on June 21, 2016. The highest temperature ever recorded in Death Valley in June was just a few years ago: 129 °F on June 30, 2013.
Information about Death Valley's climate history is available online at http://www.wrh.noaa.gov/vef/climate/DeathValleyClimateBook/.
Last updated: July 4, 2016