Death Valley National Park Announces "Hike Death Valley" Program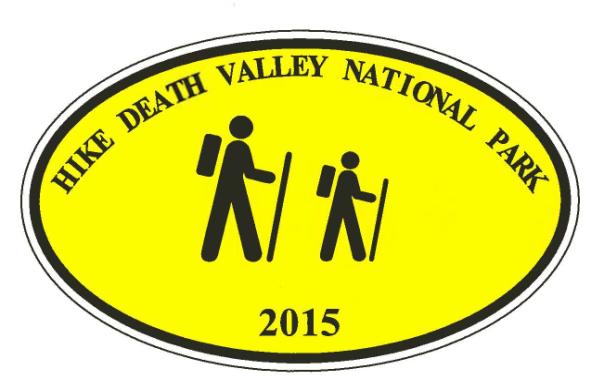 News Release Date:
January 20, 2015
Beginning January 2015, Death Valley National Park will launch the first annual Hike Death Valley program.The program encourages park visitors to get out on the trails of Death Valley by earning points for each hike completed.Once a visitor earns four points, they are eligible to receive a free commemorative decal by sharing their photos with a park ranger and learn how to share their experience online.
Four trail categories will be used.Basic trails are short hikes (less than three miles round trip).These trails direct visitors to some of the commonly overlooked gems of Death Valley such as Ubehebe Loop and Darwin Falls.Intermediate trails (3 to 6 miles) such as Mosaic Canyon and Mesquite Flat High Dune touch on some of the park's classic adventures.Both hikes are located in the Stovepipe Wells area of the park, a convenient place to spend the day hiking with services nearby.Sunset at the Mesquite Dunes is a classic visitor experience.
Advanced trails focus on longer hikes and are typically at higher elevations such as Dante's Ridge and Wildrose Peak.Hikers should always check trail and road conditions before traveling into the high country as conditions do change throughout the year. The program is also available to disabled visitors, offeringaccessible hikes such as the Salt Creek Loop where visitors may catch a glimpse of the endangered Salt Creek Pupfish, and Harmony Borax Works where the infamous 20 Mule Team Wagons loaded up for their grueling 165 mile trip through Death Valley.
The list of trails and the decal design will change annually to encourage our repeat visitors to participate in the program for years to come.For a complete trail list and for more information about the program, please visit www.nps.gov/deva.
-NPS-
c 
Last updated: February 28, 2015