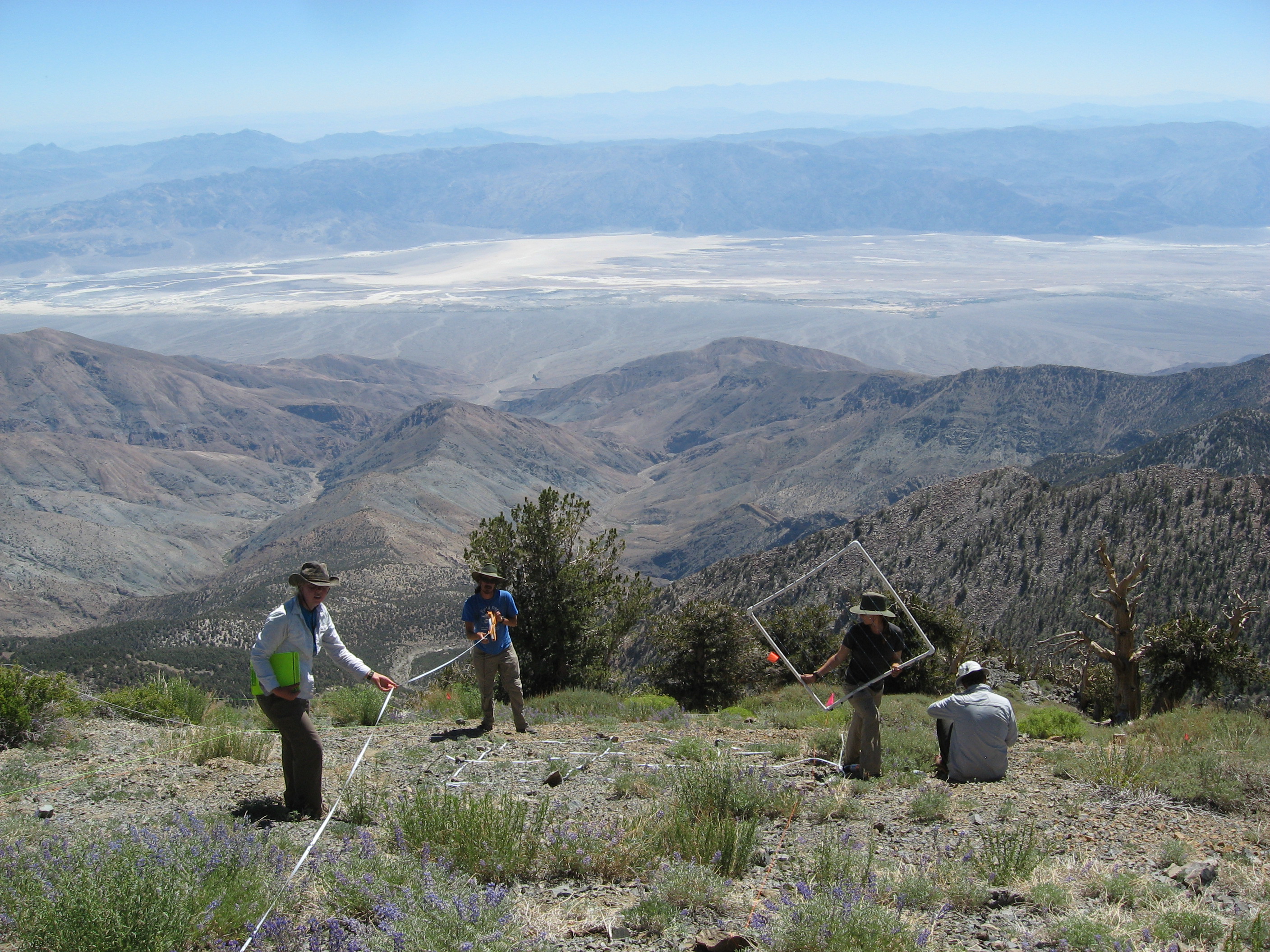 News Release Date:
July 26, 2013
During the week of June 23-28 twenty scientists, volunteers and students gathered in the Panamint Range to establish a new target region ("site") of the GLORIA Monitoring Program.The Global Observation Research Initiative in Alpine Environments was established by scientists in Austria nearly a decade ago to facilitate an effort to document changes in biodiversity and vegetation patterns in high mountain ecosystems around the globe, in response to climate change.
Park Botanist Jane Cipra and Biological Technician Drew Kaiser selected the new monitoring location at the park which encompasses four mountain tops within the vicinity of Telegraph Peak (11,049 feet) extending from the highest elevation down to treeline.A highly capable field team, led by UC Berkeley researcher Adelia Barber, enthusiastically and efficiently executed the protocol including a physical survey of the mountain peak, documentation of vegetation species and cover in an array of plots, placement of temporary temperature loggers (to be retrieved later) and photo documentation.
The park benefited from the participation of well-seasoned GLORIA volunteers – over half of the field crew participated in previous GLORIA projects.These included retired professionals as well as students.Graduate Students from three University of California campuses, University of Montana and Colorado State University participated in this year's team. In addition, new GLORIA initiates included retired university and other professionals from the bay area.NPS staff from park resource management and Mojave Network I&M program rounded out the team. Work accomplished by the 2013 team establishes the park baseline with 49 total plant species and data will be entered into the global database this fall. Repeat measurements will be taken at 5-year intervals.
This new location represents the 20th target region in North America and the fourth location within the Pacific West Region (PWR).Other PWR locations include Great Basin NP, Sequoia and Kings Canyon NPs and Yosemite NP. Regional participation in the GLORIA project is facilitated by the Californian Cooperative Ecosystem Studies Unit Research Coordinator, Dr. Angela Evenden.PWR GLORIA monitoring is conducted in close collaboration with the USDA Forest Service Pacific Southwest Research Station for a coordinated landscape monitoring approach across the Sierra and Great Basin bioregions. More information on the GLORIA project is found at: Death Valley GLORIA ( http://www.gloriacalifornia.org/?page_id=141) and International GLORIA (http://www.gloria.ac.at/?a=7).
For more information, contact Jane Cipra jane_cipra@nps.gov or Angie Evenden angela_evenden@nps.gov.