Death Valley Forecasted for First Week of Over 120° of Year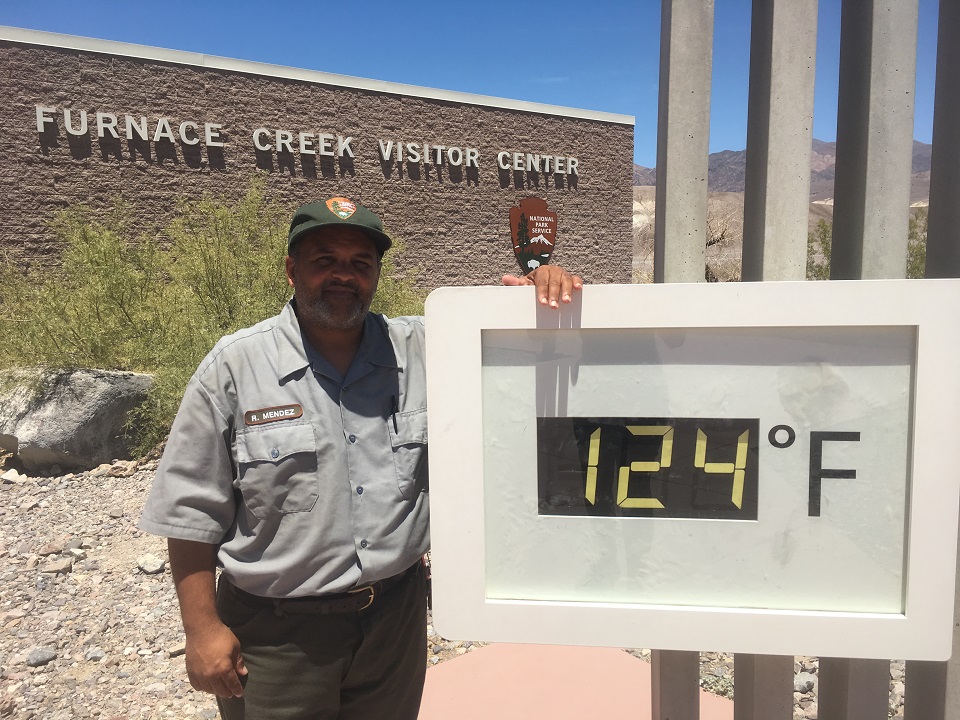 News Release Date:
June 18, 2017
Contact: Abby Wines, 760-786-3221
DEATH VALLEY, CA – The hottest place on Earth is bracing for its first extremely hot week of the year. Temperatures above 120° F are expected in Death Valley National Park this week as spring gives way to summer.
The official temperature reached 120° F for the first time this year on Saturday. The National Weather Service is forecasting highs of at least 120° F through Friday. This week's highest temperature, 126° F, is predicted on Tuesday's solstice, which is the first day of summer.
Local residents do not feel acclimatized to the heat, since this heat wave comes just one week after a cool front brought a near-record cool high temperature of 91° F.
Officials are concerned about park visitors, many of whom are from cooler countries. The summer edition of the park's newspaper includes heat safety information in German, French, and Italian. Rangers have already responded to multiple heat-related medical calls this season.
Earlier in June a woman required ambulance transportation to a hospital due to 3
rd
-degree burns on her feet. She had lost her sandals in Mesquite Flat Sand Dunes and walked about a half mile on the hot sand. The temperature of the sand was not recorded, but touching a 120° F surface for over five minutes can cause burns of that severity. Ground temperatures are generally significantly higher than official temperatures, which are recorded about 4 feet off the ground in the shade. Ground temperatures over 200° F have been measured in Death Valley. To put that in perspective, 160° F is sufficient to cook meat.
In spite of the heat – or perhaps because of the heat – large numbers of people visit Death Valley National Park in the summer. In recent years, over 100,000 people visited the park each summer month.
Park rangers recommend that visitors not stray from their air conditioned vehicles for more than 15 minutes, avoid activity in the middle of the day, wear a hat and sunscreen, drink plenty of water, and remember eat light meals or snacks, even if they don't feel hungry. Park rangers suggest that people spend more time at higher (and cooler) sites in the park, such as Dantes View.  
Death Valley National Park is the homeland of the Timbisha Shoshone and preserves natural and cultural resources, exceptional wilderness, scenery, and learning experiences within the nation's largest conserved desert landscape and some of the most extreme climate and topographic conditions on the planet. About two-thirds of the park was originally designated as Death Valley National Monument in 1933. Today the park is enjoyed by about 1,300,000 people per year. The park is 3,400,000 acres – nearly as large as the state of Connecticut. Learn more at www.nps.gov/deva.
Last updated: June 18, 2017