Date:
April 2, 2015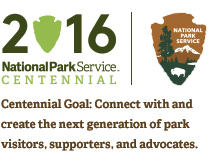 The National Park Service and the National Park Foundation today announced the launch of Find Your Park, a public awareness and education campaign celebrating the milestone centennial anniversary of the National Park Service in 2016 and setting the stage for the next 100 years. First Lady Michelle Obama and Mrs. Laura Bush will serve as honorary co-chairs to promote the celebration of the 2016 centennial and to encourage people to connect with their favorite parks and public lands. First Lady Michelle Obama recently filmed her Find Your Park story, highlighting President's Park, home to the White House, and her family's connection to one of the newest national parks, Pullman National Monument in Chicago.
Find Your Park invites the public to see that a national park is more than just a place – it can be a feeling, a state of mind, or a sense of American pride. Beyond vast landscapes, the campaign highlights historical, urban, and cultural parks, as well as National Park Service programs that protect, preserve and share nature, culture, and history in communities nationwide. Further, Find Your Park encourages people to find their own personal connections within the network of national parks and public lands.
"I am thrilled to be serving as the honorary co-chair of the National Parks Centennial Celebration with First Lady Laura Bush. Since the launch of Let's Move! Outside in 2010, the National Park Foundation has been encouraging kids and families to get active, get outside, and take advantage of America's great outdoors," said First Lady Michelle Obama. "I look forward to celebrating the National Park Service's 100th anniversary and encouraging people across the country to 'Find Your Park,' whether it's in your backyard, in your hometown, or in one of our beautiful national parks."
"From Acadia National Park on the East Coast, to Yosemite on the West;from Glacier National Park in the North, to Big Bend in the South;I've collected national parks like stamps. I've even lived in a national park, the White House," said Mrs. Laura Bush. "Our national parks are the treasures of our country. I am happy to celebrate 100 years of America's best idea, our national parks. I invite all Americans to join me in Find Your Park."
As co-chairs, Mrs. Obama and Mrs. Bush will engage young Americans, connecting them with parks and National Park Service programs, and encouraging them to share Find Your Park stories and experiences.
The campaign to connect national parks with the next generation comes at a critical time. According to a study conducted by Hall &Partners on behalf of the National Park Foundation, while approximately 80% of Americans have heard of the National Park Service, only 38% are at all familiar with the organization and all that they do.
"There is something for everyone in our 407 national parks, whether it is the breathtaking landscapes or the historical and cultural sites that tell the story of our country," said Secretary of the Interior Sally Jewell. "As we approach the centennial anniversary of the National Park Service, this is a perfect time for all Americans – especially young people – to Find Your Park, from neighborhood parks to national parks and all public lands in between."
"The centennial is a once-in-a-lifetime opportunity for the National Park Service to reflect on our accomplishments and to use all of our parks and programs to connect all Americans and visitors from around the world with the natural, cultural and historic treasures in our care," said National Park Service Director Jonathan B. Jarvis, "As a new generation responds to Find Your Park, I am confident that this campaign will have a powerful impact that will last through our next 100 years."
"We believe that Find Your Park will inspire people everywhere to engage more deeply and more often with the National Park Service and its transformative work in communities across the country," said National Park Foundation Interim President Dan Wenk. "By connecting the next generation with our national parks in meaningful ways, we are building a movement that will help ensure that these special places are protected well beyond the next 100 years."
At the heart of this engagement effort is the public invitation to share park experiences and memories at FindYourPark.com, which will feature an interactive gallery of inspirational stories from the general public, National Park Service employees, and celebrities. Content will be socialized with #FindYourPark. Also on FindYourPark.com is a searchable list of ideas for ways to find your park, including in-park and digital activities.
Some of the most admired companies in the world are supporting the National Park Foundation's efforts for Find Your Park, including American Express, Budweiser, Subaru, REI, Humana and Disney. Additional partners include Coleman, Coca-Cola and Accenture.
-NPS-