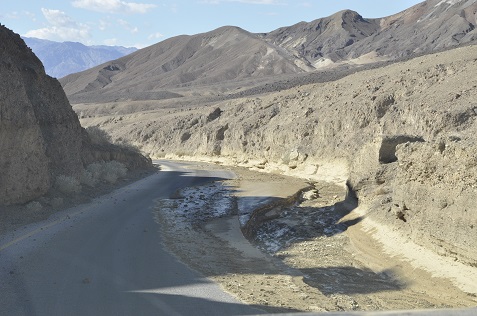 News Release Date:
November 14, 2015
Contact: Abby Wines, 760-786-3221
Contact: Linda Slater, 760-786-3279
Artists Drive in Death Valley National Park, closed due to mud and rock debris in the wake of heavy rains on October 18, reopened to visitors this afternoon. Crews cleared and removed an estimated 8,000 tons of debris from the nine mile road, and imported an additional 360 tons of material from Badwater Road to facilitate repairs.
Artist Drive is a scenic loop road through multi-hued volcanic and sedimentary hills in Death Valley National Park. Artist's Palette is especially photogenic in late afternoon light. The 9-mile paved road is one-way and is only drivable with vehicles less than 25 feet in length. The drive is accessible from Badwater Road, approximately ten miles south of Furnace Creek.