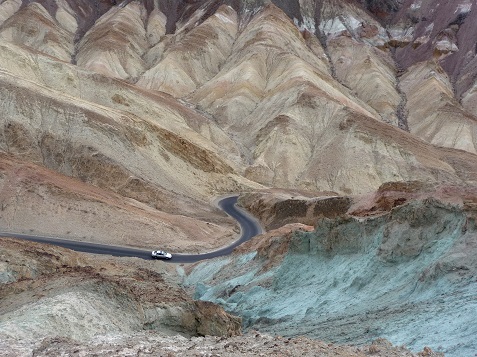 News Release Date:
January 3, 2017
Contact: Abby Wines, 760-786-3221
Contact: Linda Slater, 760-786-3279
DEATH VALLEY, CA – Artists Drive, one of Death Valley National Park's top attractions, will be closed through March for repair work.  
Artists Palette, Artists Drive and ½ mile either side of Artists Drive will be closed to all public entry, including pedestrians, from January 9 through March 15, 2017. This closure is necessary to ensure public safety while construction is underway.  
"We considered allowing the public to hike into Artists Palette," said Abby Wines, park spokesperson. "But the terrain in that area is so rough. Hikers would likely end up walking adjacent to the road, where they could get hit by equipment coming around blind curves."  
The green, blue and mauve colors at Artists Palette are a result of weathering of volcanic rock and ash. Artists Drive is a one-lane 9-mile scenic loop road. It is one of the park's most popular attractions.  
Artists Drive was damaged by flash floods in October 2015. National Park Service road crews removed debris and made temporary repairs to reopen the road a few weeks later. Hardrives, Inc. will repave Artists Drive and repair flood damage under contract with Federal Highway Administration.  
Harmony Borax Works, site of 1880s mining, will also be closed for a week or two early in 2017. The dates of this closure have not been determined yet. This closure will allow repairs and repaving of the interpretive trail.  
-www.nps.gov/deva-