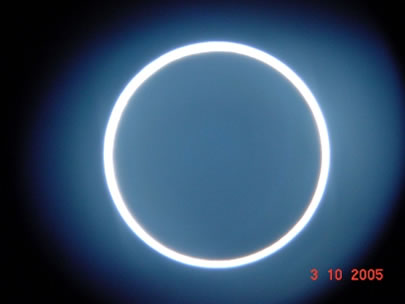 News Release Date:
May 9, 2012
The first annular eclipse seen in the United States in 18 years will be visible on May 20, 2012, and Death Valley NP Rangers will be offering prime time viewing from Dante's Viewpoint. From 5:30-7:30 pm, rangers will assist park visitors in seeing the eclipse through telescopes and solar glasses from a premier vantage point within the park.
Astronomers like Dr. Tyler Nordgren, who is also a National Park Service volunteer, call this eclipse "annular." At its peak, the eclipse will resemble a bulls-eye, with a thin ring of the sun visible around the Moon. The Moon would need to be closer to Earth for a total eclipse, which blocks out the sun completely and casts a large shadow upon Earth. Nordgren said, "Even though we won't have a total eclipse, the moon will be in position to block out 96 percent of the sun's light at the eclipse maximum, leaving what we call a 'ring of fire' around the disc of the moon."
Because the Sun won't be completely blocked, it is essential for viewers to use special solar glasses or other protection to view this event. Glasses will be available for sale at the Death Valley NP Visitor Center bookstore.
Dante's Viewpoint is located ~30 miles south of the Furnace Creek Visitor Center. From Furnace Creek, drive south on State Highway 190, 17 miles to the Dante's View turnoff and continue 13 miles.
Due to limited parking, please carpool. As temperatures are likely to be warm bring plenty of water. Restrooms are not available on site, but are located along the road 1/4 mile below the viewpoint. Note that Dante's View Road has a vehicle length restriction of 25 feet.
For more information on the eclipse, see https://nature.nps.gov/features/eclipse. For more information on the Death Valley program, call 760 786 3280.