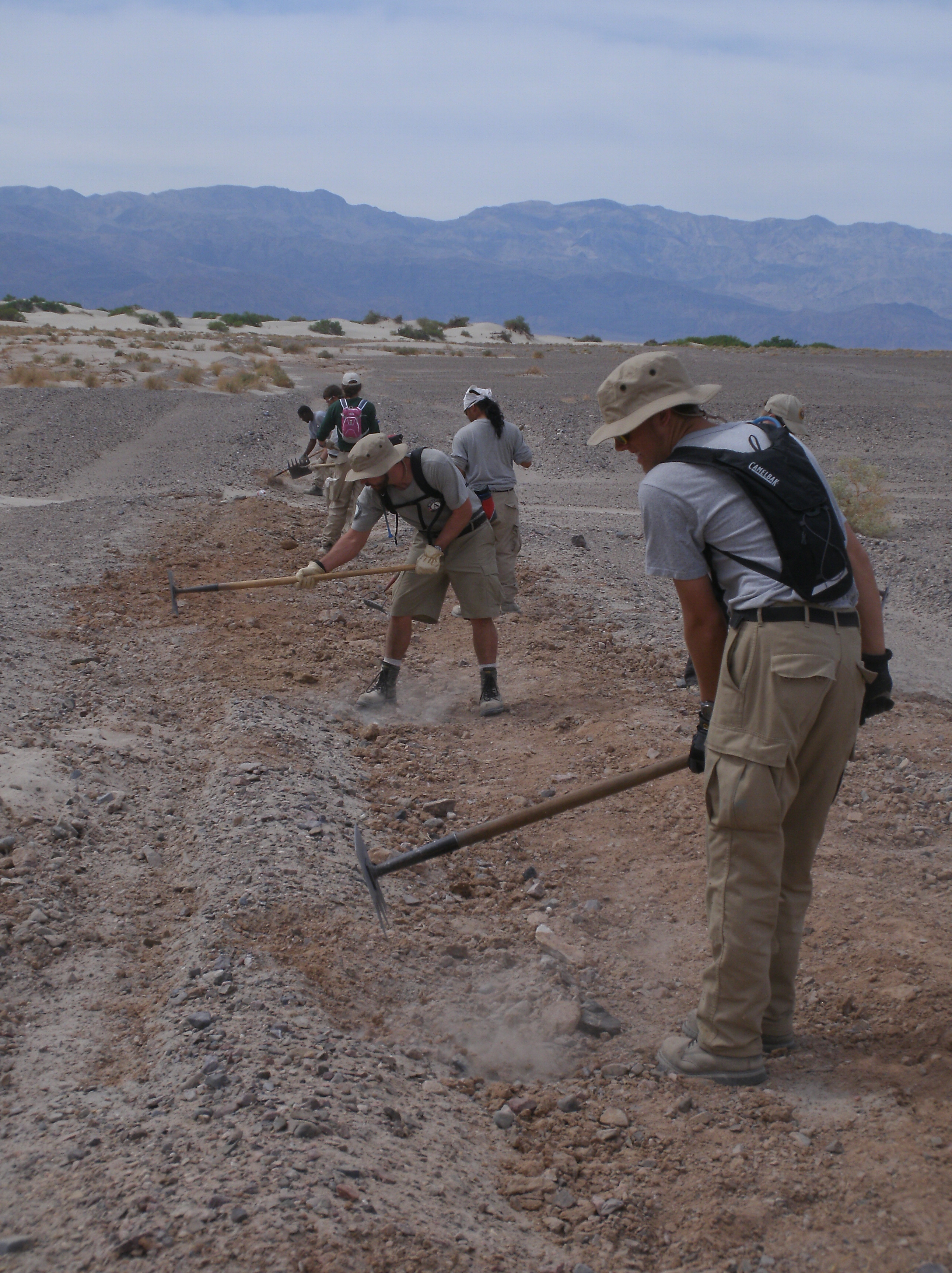 News Release Date:
April 23, 2012
Death Valley, Calif. - An AmeriCorps National Civilian Community Corps (NCCC) team will serve in Death Valley National Park until April 27, 2012. This is the first time that an AmeriCorps NCCC team has been called to serve in Death Valley NP. Death Valley National Park is the largest national park in the lower 48 states at 3.4 million acres. The park contains the lowest point in North America at -282 feet below sea level.
The team has been camping within the park while completing various projects. The team, named "Gold 8", has used GPS devices to document the park's boundary fence in the Nevada triangle; counted pupfish in Devils Hole; restored archaeological sites in the Chloride Cliffs; cleared heavy brush in the popular Cottonwood Canyon; and documented historical fence posts around Scotty's ranch.
Corps Member Jen Reagan says, "I'm so excited to get to Death Valley and start working to help make the park a better place. This is going to be an once-in-a-lifetime experience".
Park spokesperson Cheryl Chipman remarked "The crew has worked all over the park, assisting park staff in numerous projects that have been on the "to-do" list for quite some time. It's great to finally address some of these projects, and we are happy that the crew has been able to see the variety of landscapes that are within the park."
AmeriCorps NCCC is a full-time, residential, national service program in which 1,200 young adults serve nationwide each year. During their 10-month term, Corps Members - all 18 to 24 years old - work on teams of eight to 12 on projects that address critical needs related to natural and other disasters, infrastructure improvement, environmental stewardship and conservation, energy conservation, and urban and rural development. Members work on a series of different projects, typically lasting six to eight weeks each, to mentor students, construct and rehabilitate low-income housing, respond to natural disasters, clean up streams, help communities develop emergency plans, and address countless other local needs. The Pacific Region campus in Sacramento is one of five regional hubs in the United States and serves ten states in the western part of the country, as well as territories of Guam and American Samoa.
In exchange for their service, Corps Members receive $5,550 to help pay for college, or to pay back existing student loans. Other benefits include a small living stipend, room and board, leadership development, increased self-confidence, and the knowledge that, through active citizenship, people can indeed make a difference. AmeriCorps NCCC is administered by the Corporation for National and Community Service. The Corporation improves lives, strengthens communities, and fosters civic engagement through service and volunteering. For more information about AmeriCorps NCCC, visit the website at www.americorps.gov/nccc.
###