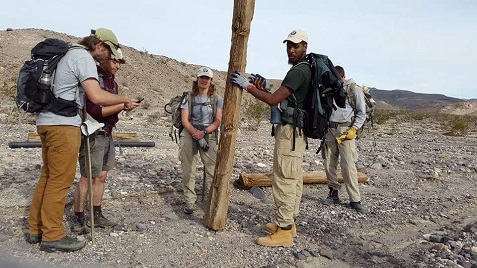 News Release Date:
January 16, 2016
Contact: Estrella Romero, 720-579-3276
Contact: Melissa Sheldahl, 916-579-3537
DEATH VALLEY, Calif. –Scorpions, spiders, and snakes! Oh, my! These are the new neighbors for an AmeriCorps NCCC (National Civilian Community Corps) team sent to serve in Death Valley. The team, known as Green Four, is comprised of nine 18- to 24-year-olds.
Once in a blue moon Death Valley has a massive rainstorm, and 2015 hit the mark. Green Four is working hard to clean up parts of the National Park by clearing damage due to recent flooding, removing unwanted man-made trails, getting rid of invasive fauna, maintaining trails and cleaning up a former firing range used by park rangers.
When asked about thoughts on the project and the importance of what the team is doing, Green Four Member Laury Garcia quoted Maya Angelou, "All great achievements require time." Green Four will be spending eight weeks camping during this project. AmeriCorps NCCC has previously sent teams to serve with Death Valley National Park.
The AmeriCorps National Civilian Community Corps (NCCC) and its FEMA Corps units engage 2,800 young Americans in a full-time, 10-month commitment to service each year. AmeriCorps NCCC members address critical needs related to natural and other disasters, infrastructure improvement, environmental stewardship and conservation, and urban and rural development;FEMA Corps members are solely dedicated to disaster preparedness, mitigation, response and recovery work. The programs are administered by the Corporation for National and Community Service (CNCS). CNCS is the federal agency that engages more than five million Americans in service through its AmeriCorps, Senior Corps, Social Innovation Fund, and Volunteer Generation Fund programs, and leads President's national call to service initiative, United We Serve. For more information, visit NationalService.gov.